Browsing articles from "May, 2009"
Uncategorized
I was quite excited to receive the newsletter from Made In France – a cool little boutique on the outskirt of the ByWard Market, which specializes in imported products from the culinary capital of the world.  It opened in 2005, and I do drop by from time to time.
Amongst the new products ava

ilable on the shelf soon, Brittany butter cookies, Sweet Pepper mustard,
Truffle mustard, Apricot & Lavender jam, Rose petal confit, Salted butter caramels from Brittany, Cooking lavender, Truffles and Truffle Oil.
Items are a bit pricy, but its not like you can find them at
Food Basics
.
Be sure to check it out for A summer à la française!

Tuesday, May 26, 2009

French Summer-Un été à la française
On our way to Shauna's graduation party – she is moving to Halifax to save lives – we had to stop for beer.  Since we stayed at the
Hotel des Gouverneurs on Ste-Catherine
, we dropped by the
IGA at Place Dupuis
 to get some.
Beers are important when you go to a party.  Shauna is portuguese, and therefore we knew we didn't need to bring food (on the menu:  4 types of salad, cured meats, pork chops, chicken breasts, bunch of snacks – and 7 fully loaded desserts, and yes, I did try them all.) 
But beers were needed.  I was quite pleased at the selection available at the IGA Place Dupuis – almost as pleased as Melissa was with the post-modern plastic shopping cart.  
I hesitated a bit – and ended up selecting a 6-pack of
Red
from
Les Trois Mousquetaires
, as I have never tried it.  In fact, I have never had any products from Les Trois Mousquetaires.
Melissa, however (and thankfully), noticed that IGA was selling a 24 of
Heineken
for 25.99$ this week.  Great price for a great brew, so we also picked up one case to bring home.  
We arrived at the cash, the 24 scanned properly, but the 6-pack not so much.  It wouldn't scan.  Our cashier tried to enter it manually, to no avail. She called a helper to her rescue, hoping he would track down the price.  We waited, we waited, and after waiting 10 minutes, while the queue expand quite a bit behind us – and we had to avoid evil glares from other people even though it was no fault of our own  - the helper came back – no price.  He went to find a manager, and a few minutes later, he came to talk to us:  "Sorry guys, but we don't have a price for this, so we can't sell it to you."
Now, that's "entrepreneurship".
In the Ottawa Citizen Saturday Observer, the versatile and multitasking Glen McGregor  
maps out the locations
 described by Terry Kilrea during his testimony at
Ottawa Mayor Larry O'Brien
's trial. (Kudos to Dennis Leung for the actual graphic.)
 First, let me say that out of Terry Kilrea's guide of 12 locations, I have actually been to 11 of them.
 I am a regular at Maclaren's and the Metropolitain, I go from time to time to The Lieutenant's Pump, Dunn's and the Elgin Street Diner, and I have been a couple of times to Biagio's Italian Kitchen and Milestones.
 But I have never been to the Ottawa Courthouse – since I have never been charged with:
 "having or pretending to have influence with the Government of Canada, or with a Minister of the Government, directly or indirectly, offer, or agree, to accept for himself a reward, benefit or advantage of any kind, to wit: the withdrawal of Terry Kilrea from the 2006 Ottawa Mayoral race, as consideration for his co-operation, assistance or exercise of influence in connection with the appointment of Terry Kilrea to an office with the National Parole Board of Canada, contrary to section 121 (1) (d) of the Criminal Code of Canada. And further that at the said places and times, Larry O'Brien did solicit, recommend or negotiate with respect to an appointment to an office, to wit: an appointment for Terry Kilrea to the National Parole Board of Canada, in the expectation of a direct or indirect reward, advantage or benefit, to wit the withdrawal of Terry Kilrea from the 2006 Ottawa Mayoral race, contrary to section 125 (b) of the Criminal Code of Canada."
 You can follow the next episodes of the trial by following McGregor's Twitter.
We went to the
ByWard Market
, wandering and wondering where to go for dinner.  Buskers were performing on the William Street Mall, and the laughter and applause from the crowd attracted our attention to the area.  That is when we noticed that
Oregano's
successor was finally open.
Oregano's Pasta Market had been there for almost 30 years, and was very popular with tourists, with its red-and-white checkered table cloths, and its inoffensive if uninspired Italian comfort food cuisine.  I did enjoy Oregano's lasagna, I admit.  
But the owners of the popular
Empire Grill
and
Metropolitain
 (I talked about the Met
here
and
here
) wanted to expand their branché empire in the Market, and they
took over Oregano's lease
in August. Nine months letter, Gary Thompson, John Borsten and Dave Mangano gave birth to their new baby:
The Grand
.   Appartently, they named the baby in honour of The Grand Hotel, which was the original occupant, in the late 1800s. 
We walked in around 7:30PM, and unbeknownst to us, tonight was opening night for The Grand.  So we walked in, and were told a table for two would be ready in 5 or 10 minutes.  There was room at the bar, so we decided to have a beer while waiting.
The Grand has an interesting if limited beer selection.  The usual
Stella Artois
,
Grolsch
, and pretty much everything the
Mill Street Brewery
has to offer.  I ordered a Tankhouse ale (reviewed
here
) and was flabbergasted when the barmaid pulled a pitcher from under the counter to fill up my pint.  I must have looked aghast, because she asked after noticing I was starring at my pint if I minded.  "I'll give it a try," I enunciated, stunned and not wanting to waste beer.  But at 7.40$ a pint, you should expect better.  Strike one.
Melissa ordered a Mill St. Organic Ale, a very light and crisp lager.  She was very disappointed by the quality of the pour – the pint arrived with a 2 inch head.  The attendee was a newbie and clearly had not mastered the art of pouring a beer from a tap.  Strike two. 
Mel was wondering aloud if she should ask for a top-up, as the head was quickly disappearing and leaving a 5/6th of a pint in the glass.  I told her to drop it.  Huge mistake:  the beer suddenly splashed all over the counter, all over her, and a tad bit on myself.  I thought she had actually dropped it, when I realized that she was still holding the top half! The friggin' glass had litterally BROKEN IN HALF!!!  Strike Three.   
Drenched in beer, stunned, and still holding the glass, Mel was in shock.  So were the people sharing the counter with us.  "Is this your first date?" a worried mustache-wearing man asked.  Mel went to the washroom to clean up and dry herself (no mirrors in there yet), and the staff replaced her pint with a fresh one, which, I might add, was a much better pour.  Perhaps we should have left then, but we were hungry, and our table was ready.  So we stuck with it, and left the bar.  A barman told me not to worry about the beers.
We sat at our table – a two-seater, in a corner.  Mel had a view – the George Street patio, empty despite the line-up now forming at the door.  I asked, and apparently, they were a bit overwhelmed and decided to close it in order to handle the customers properly.  For the record, the restaurant can hold about 150 inside and perhaps another 150 outside.  
I also had a view – the computer and the total chaos surrounding it.  Servers were just piling up there to punch in orders (turns out some of the server's handheld device were not working properly) and print bills, and some of them appeared confused by the software.  Mayhem would ensue, and, at times, up to 10 servers, and the manager, would pile up in the area, basically surrounding us and mostly squeezing Mel further in her corner.  But she had a view.  And so did I, which made it easy to notice the staff's dress code:  blue jeans, black top, red accessories.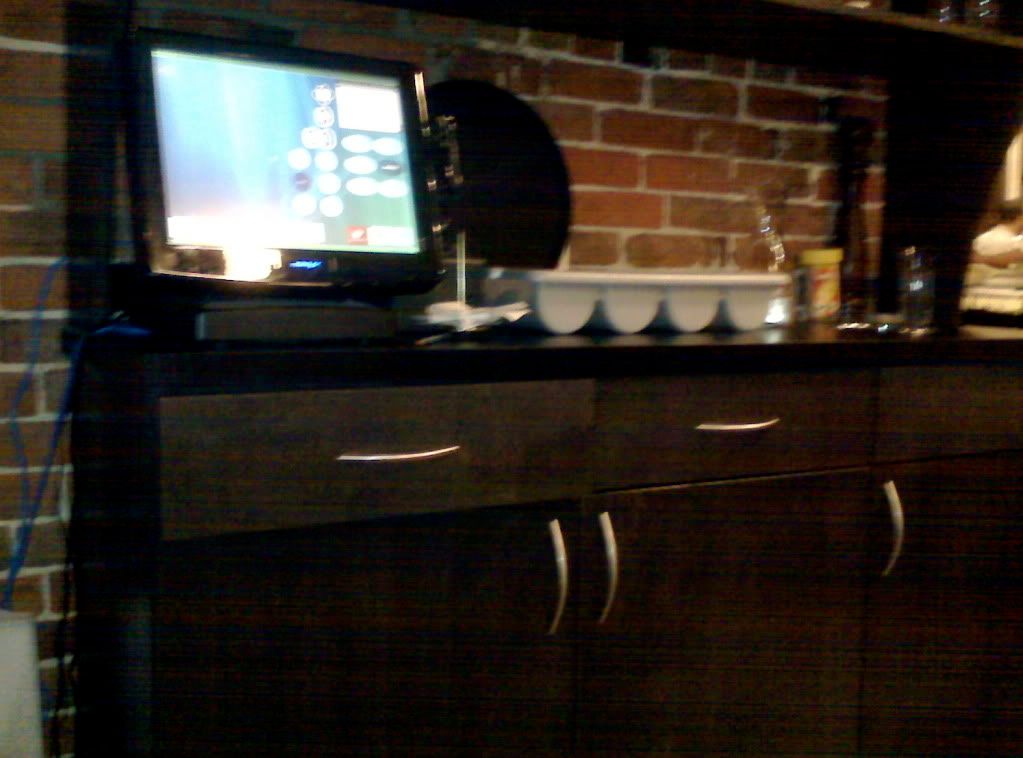 We looked at the menu, which is minimal and shows a willingness to do little, but to do it well.  So far, it had not been so Grand, but perhaps things would turn around at this point?  Italian cured meats and cheese, antipasti, salads, pannini (lunch only), pasta and pizza. 
We decided to go with a starter, and after hesitating between the grilled and the fried calamari, my arguments for a healthier selection prevailed and we went for the grilled ones.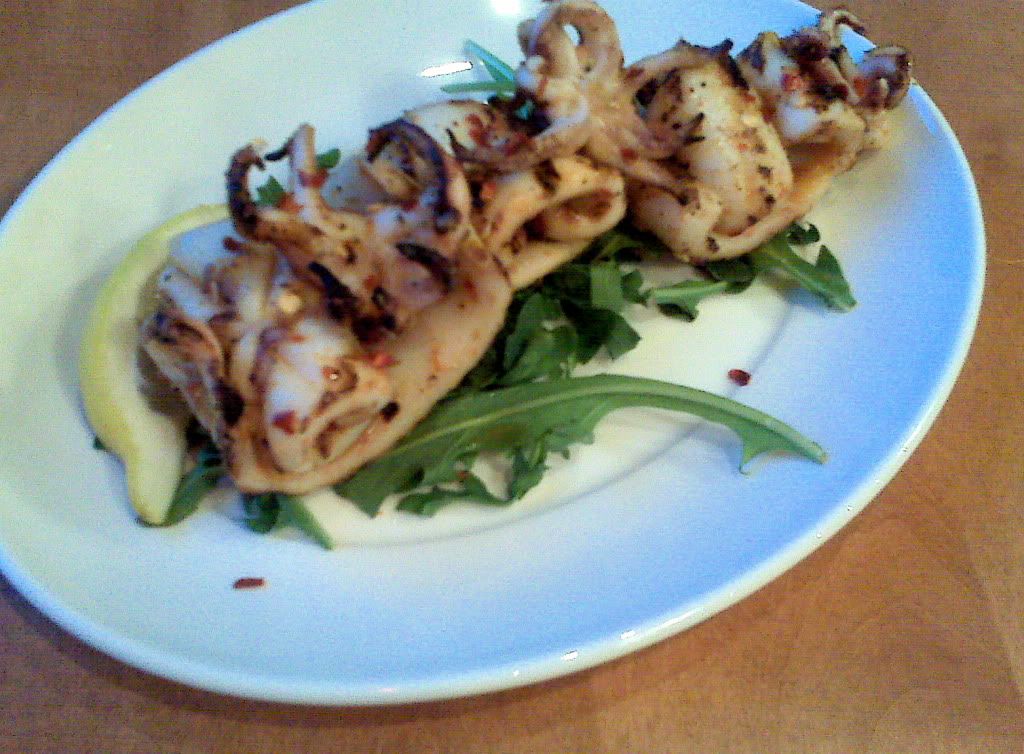 Now, this was well done.  The calamari were fresh, tender, drizzled with oil and hot pepper flakes.  It was also a very nice portion, with a good mix of body and tentacles.
For a main, Melissa ordered the Papardelle alla Simi.  Tomato sauce (they use 100% 
San Marzano
 DOP certified – considered the best of the best tomatoes by many), cherry tomatoes, fresh ricotta, parmigiano, sausage and basil.  
I went for The Grand pizza.  If you name it after your restaurant, it has to be the best you can offer, in my opinion.  Tomato sauce, mozzarella, scamorza (which is basically smoked mozarella), fresh basil and prosciutto di parma. 
Melissa's dish arrived before my pizza.  Unfortunately for Melissa, it was the wrong dish.  They had brought the Papardelle a Casa, with mushrooms and black olives – not something she would order. Ever. Strike one.   She returned it.  Our friendly server, Brenda, came back with the menu, stating that what was brought was indeed what was ordered.  Melissa showed the item in the menu, and Brenda realized that there had been in fact a mistake.
My pizza arrived 15 minutes later.  We had been warned that there was a bit of delay for the pizzas, despite the brand new, state of the art, metallic wood oven.  The Grand is going for the Napoletana style pizza.  They will try to get certified from the Associazione Verace Pizza Napoletana,  the official non-profit association whose goal is to safeguard and promote the culture of the real Neapolitan pizza worldwide.  The specifications are numerous, but the basics are that the dough must be made with hand pressed Italian flour, the sauce is made with Italian tomatoes and is spread thinly on the pie in a spiral motion, and the mozzarella has to be made from water buffalo produced in the region between Naples and Rome.
Melissa's dish arrived about 5 minutes after my pizza.  Melissa didn't say a word, just pointed at the dish.  "Oh my God!" said Branda, taking the Parpadelle a Casa back once again.  Strike two
So we shared the pizza while waiting for her Parpadelle.  The Grand is going all-out on authenticity – the pizza is not even pre-sliced.  The cheese combination was very tasty, nicely caramelized.  The subtle smokiness of the scarmoza is present, but not over-powering.  The prosciutto was of a nice quality, but could be sliced a tad bit thicker to make it easier to slice the pizza.  As for the basil, I do not know why they bother listing it as an ingredient ahead of the prosciutto.  Nevertheless, it is a minor problem and the end-result was very good, if you like this style of pizza as opposed to the american-style.  Drizzled with the flavored olive oil, it was quite enjoyable.
Mel's dish finally arrived after another 10 minutes, and it was a homerun.
"This is the best pasta I've ever had in Ottawa," she categorically stated.  Their pastas are made daily, with fresh eggs, which explains the quality. They were cooked "al dente", the texture was rich, the taste was deep, and the freshness of the tomatoes and the basil gave the dish a very refreshing balance to the mild italian sausage.  Well executed, but strangely there was little evidence of any actual tomato sauce as described in the menu.
With our meal, we slowly drank a bottle of
Gabbiano
Chianti 2007.  At 30$, it is one of the cheaper wine on
The Grand's wine list
(most bottles are around 60$), the Gabbiano Chianti is an honest, down-to-earth wine from the Tuscan winery.  It is a simple wine, with some notes of dark berries and some cherry.  Some spice flavours too.  Not as dry as other Chianti, it did work well with our food. You can get it from the
LCBO
at 13.95$ or for 14.65$ at the
SAQ
.
The bill arrived, as I was pondering aloud the title for this post. A not so Grand opening, A Grand Disaster, The Grand Crashing…  Some of the waiting staff smiled approvingly when they heard me. That was the saving grace – despite everything that happened, the chaos and the problems, the staff, and especially Brenda, was very pleasant usually smiling and laughing.  The manager, on the other end, was sweating and stressing a little more in the face of all the problems arising.
On the bill, my Tankhouse was still there so I asked why, since I was told not to worry about the beers.  The manager explained to me what the barman meant by "beers":  Mel's first and second!  We proceeded to tell him about our entire evening, and he gave us some gift certificates for our next visit to make up for it.  Funnily enough, I had seen him distribute some earlier.  I wonder why… 
We ended up coughing 93.86$ before the tip for our excellent adventure.
—————————————–
UPDATE 2009-05-16 9:49:59
Today, the Canadian Friends of the Hebrew University of  Jerusalem and the  Canada-Israël Committee were hosting a reception on Parliament Hill, Celebrating Partnerships in honour of Israel's 61st Anniversary.
Hundreds of guests, including parliamentarians from all parties, were mingling and enjoying the tapas-style creation  of Israeli  Chef Ovid Alfia while Israeli Opera Star, Yevgeni Shapovalov, was impressing everyone with the strenght of his voice while Ernest Shteynberg was accompanying him on the piano.
The best two hors d'oeuvres were the beef roulades on a bed of avocado and covered with strips of marinated vegetables (right); and a spicy tuna on artichokes served raw with a milder sauce and sprouts(bottom).
Both dishes were delicious, and they were freshly prepared before our eyes during the event, which was a nice change from the usual fare on Parliament Hill.
The catered meat meal was supervised by the Ottawa Vaad Hakashrut. All meat were Glatt Kosher.
 
——————
UPDATE - May 19, 2009 18:36pm Mitchell Raphël was there.
A lot of ink and virtual ink has been spilled since the
Dijongate
broke almost a week ago, but in this corner we feel that we should weigh in with some analysis.
Biden had a Swiss cheese burger with jalapeño peppers.  "Do you put ketchup on it, or do we have to do that ourselves?" Biden asked. And here we have Obama,
ordering his burger
:  
"Hi, I'm gonna have a, just your basic cheddar cheese burger, medium well.  I just want mustard, no ketchup.  You got a spicy mustard or something like that, or a Dijon mustard, something like that?"
There you have it.  A spicy mustard, or a Dijon Mustard.  Not unsimilar to the mustard needed for W's Deviled Eggs recipe.
Lost in the
right-wing-noise
,
media-conspiracy theory
and other 
in-Hanity
, is how good this burger looks, and how refreshing it is to see corn and watermelon as their classic sides. Obama found out that Ray's Hell Burger is offering one of the best burgers in the DC area, according to the
Washington Post
, but also that they had no fries.  
"Are your fries pretty good? Can you vouch for your fries?" Obama asked. 
"No french fries," the counterman happily informed him.  "We've got cheese potato puffs, they are pureed potatoes, cheddar chesse, and chives and then we flash-fry 'em." 
"Is that right?" wondered the president, taken aback. "OK, we'll have one order of that."
Some are defending Obama, some are defending the Dijon mustard.  Seems to me both are right.  As well, Grey Poupon, the Kraft-owned leading seller of Dijon in the USA, weighs in with some sense of humour.
Retail mustard
is a 300$ million market in the USA, or about a buck per person per year, or roughly 12 oz per person.
Personally, I currently carry 3 types of mustard in my fridge:  
As for Obama, he dodged another bullet when the cashier offered to waive the bill. Biden, consumer # 42, was on the verge of thanking the man for his generous offer, but Obama jumped in, and grabbed his arm:  
"No, no, no, we gotta pay for it.  See all these people here?  They'll write about how we were freeloading."
You bet they would have.  But now, they will write about how you would have free-loaded if they had not been around to keep you in check. 
After a lengthy and useful meeting with our advertising firm in Montreal, we ended up going for lunch with one of the partners to continue our discussions.
After a short detour, walking around the "under construction" neighbourhood in downtown Montreal, he brought us to
Nyk's Bistro-Pub
on
de Bleury
.
Nyk's is quite popular – the place was packed, even though it was already 12:30 PM.  The hostess welcomed us and charmingly informed us that we would be seated in two minutes, the time needed to clean a table.  Alas, it was two minutes Montreal-style, and the four of us finally sat down 10 minutes later.
The place is very warm – mostly wood, some red brick, it is meant to look like an old-time Inn, but branché.  Quite a nice spot, on a prime location, they do squeeze a lot of people in here, enhancing the coziness feeling one gets when walking in.
Nyk's menu is not very elaborate – an appetizers section, which we all skipped, a salad section with only three choices, a bistro side – pasta dishes, fish, steak, duck, etc… and a pub side – burgers and sandwiches.  They also offer a menu du jour, but we simply ignored it and zeroed in on the pub side.
Nicolas-Dominic went for a classic burger with cheddar, Carl went for the same but with brie. You have to give Nyk's thumbs up for the cheese options offered – I counted 6!!  - no processed slices here.  Nammi picked the vegeterian burger – what else - with a pattie made from chick peas, carrots, onions and celery.  It looked better than the ingredients make it sound.
For my part, I went with the Philly steak.  The  description made it very tempting:  Marinated and minced steak, deglazed in a mushroom sauce, havarti cheese, sauted onions, lettuce and tomatoes on a kaiser.
So I went for it. Nyk's has the good idea to serve its sandwiches with half fries, half salad – permitting us to indulge and feel good at the same time.
I felt there was a tad bit too much dressing on the salad, so I moved my tomatoes and lettuce from the kaiser and added it to the salad.  It gave it more substance.
The fries were very good – typical Montreal french fries, of a nice dark golden colour, crispy on the outside yet tender and warm inside.  The portion was a bit small – mostly because they were soooo good.
The sandwich was a bit underwhelming.  The havarti's presence was a sad cameo. A good Philly cheesesteak has plenty of gooey cheese – of course, Nyk's was listing its version as Philly steak – perhaps an indication that they go (very) light on the cheese.  The meat was tender, and the mushroom flavor from the deglazing was present, but subtle.  The sauted onions were also reduced to a minimal, there should have been more.  The bun was slightly grilled, giving it a nice texture and an added flavor.  Not a bad sandwich overall but it read more promising then what it gave.
I chased it down with a McAuslan Cream Ale.  Nyk's has a good selection on tap, focussed on micro-breweries (Cheval Blanc, Belle Gueule), some imports (Guiness) and a House Beer.
The Cream Ale is a rarity – it not available in bottles, and when you see it on the menu, you should go for it.  If you like Cream Ale, you will rank this one pretty much at the top of your list.  It gives another meaning to the word cream.  The secret?  Nitrogen.  Most draft beer are pressurized with carbon dioxide, but McAuslan decided to go with Nitrogen for this tap-exclusive brew.  The results are great – you end up with a very smooth beer with a full-bodied texture, with a thick and long-lasting head.  This is truly a fantastic beer.
Nyk's is a neat place – the beer is cheap, and goes even lower for their Happy Hour "4 à 7″,  when the pints go down to 4.75$ on selected brands.  They also have live music, mostly jazz, and the atmosphere is usually quite pleasant.
I showed up early in order to scout the location and chat with the reporters who were on site to cover the event –
CBC
had a live truck,
RDI
was also doing live hits; TVA, CTV, OMNI, CP, Maclean's and the Hill Times were also on the spot.
It seemed a bit disorganized at first – I showed up at 11:30 sharp, and they didn't seem to be ready.   They were moving stuff around, setting up a sound system.  Worse, the BBQs weren't blazing!
Two long tables were set up with non-pork items – cookies, brownies, vegetables, cheese.  No sign of pork.  I started to get a little worried – did they forget to bring some hog along?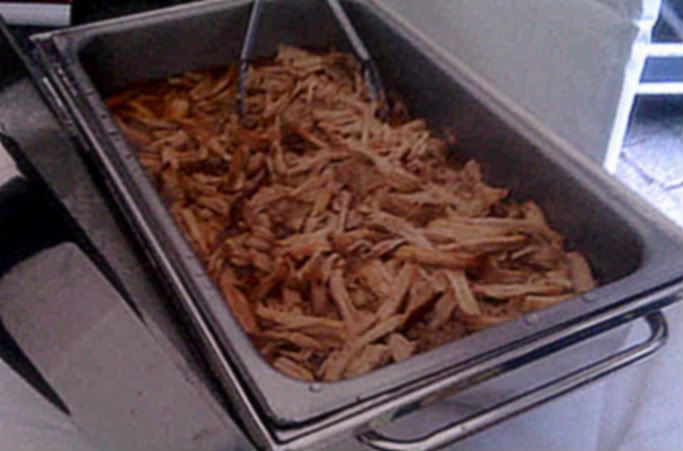 A few minutes of waiting around and talking to politicos and media-types, and finally they brought the buns and trays of  steaming pulled pork.
I was disappointed – I was expecting something with more bang – like sausages, 
pork chop sandwiches
, or some 
bacon explosion
, but the Canadian Pork Council wanted to stay classy and low key.
But I was here for the right reason – supporting our pork producers.
So I lined up, ignored the cameras zooming in and got myself a pulled pork sandwich.
This pulled pork was "Au Naturel" – no BBQ sauce, no sloppiness.  Just pulled pork, in its own juice.  Big chunks too, which made it hard to fill the bun properly.  No worries, I added some cheese to stabilize it all.  The pork was quite tender, but I would have liked some sauce with it. I mean, here we has a BBQ with no barbecueing and no BBQ sauce.  Was it really a BBQ, or was I had?
Nevertheless, my sandwich was pretty good, and as the Agriculture Minister was using the event as a
photo-op
, and Iggy was
jumping
the
queue
, others started to get worried they
wouldn't get any
.
After lunch, guests were certainly not happy to learn about the WHO latest warning about pork, despite the reassurance of the government.  Meanwhile, China is wondering why the infected herd hasn't been killed yet.  After all, Egypt is moving forward.
Collateral damage of the outbreak of swine influenza has been Canada's pork industry -  they are worried about the short and long term impact especially since China has imposed a ban on Canadian pork.
Canada exports over $2.7 billion of pork, from bacon to smoked ham. Pleasently, studies have estimated that Canada's 13 million pigs produce enough waste to fill Toronto's SkyDome every 25 days.
That is probably why staffers and politicians on Parliament Hill just received this timely invite :
————————————————————————–
Canadian Pork Producers
Invite you to a
"Pork BBQ"
Wednesday, May 6, 2009 11:30 a.m. to 1:30 p.m.
East Block Courtyard,
For additional information
Phone: (613) 236-9239 ext 232 E-mail: info@cpc-ccp.com
Come show your support
————————————————————————–
.
—————————————–
UPDATE 2009-05-06 9:47:57
I guess they are worried about people not showing up because of the weather. I just received a reminder:
"We have a tent."
.