Browsing articles from "April, 2009"
So tonight was the retirement party for outgoing 
New Democrat
 Federal Secretary 
Dick Proctor
.  
A former MP from Saskatchewan, Proctor was also federal secretary in the late 80s and chief of staff to NDP Leader Jack Layton between 2004 and 2006,  Proctor came out of retirement after the last federal election to help out on an interim basis, which was much appreciated by many New Democrats.
But tonight was the night to say thank you and goodbye.  And what better way to say goodbye then by raising a fork filled with fries, cheese and gravy?  Well, apparently something better was some season tickets for the
Victoria Salmon Kings
.  But still.
The invite for the thank you party did mention that appetizers would be served.  Of course, at the Centretown Tavern, the list of appetizers is very limited.  Some were having the nachos, but they did not look great.  Wings, bruschetta and some deep fried stuff were also on the offering. But when asked what appetizers we wanted, Drew couldn't help but call for a poutine.  People looked at him weirdly, but I helpfully suggested that with four forks, it would qualify as an appetizer and would be sharable. So Jen and Nathan bought the concept, and we ordered one.
I decided it would need to be chased down by a
Mill Street Tankhouse Ale
, which was on special this evening.  A bitter darkish copper-red ale, the Tankhouse won the 2008 gold medal for Best North American Style Pale Ale / Bitter at the
Canadian Brewing Awards
.  Hoppy, with a woodie aroma, the bitterness is under control and is present throughout.  Some sweetness is in there too, maybe chocolate? It is a beautiful brew and the flagship brand for Mill St.
After a few minutes of waiting, it finally arrived, a God send, surrounded by a miraculous halo.
Centretown's poutine is not a great poutine.  The fries are of the frozen variety.  The cheese is curds, and there was plenty in the dish, but not very fresh – no "squeek-squeek".  The gravy? A chicken-based gravy, it was not very smooth, the texture greasy.  It was edible – especially for Drew it seems, who had most of it.  But this is not a poutine I would recommend to anyone looking for a good poutine.
.
The Big Apple is the biggest apple in the world. Over 35 feet tall, you can climb on its observation deck to look at the township, the 401, or Lake Ontario in the distance.  The structure can hold 653,800 apples.  And that's only one of the things you can do at the Big Apple :  you can pet llamas, you can play mini-golf, you can run away from the wild rabbits, you can learn about apples, you can find out how far you are from other cities, and you can watch them make pies in the factory!  Fantastic.
But, most importantly, you can eat and buy a wide variety of apple-based treats, from pies to apple chips.  The cafeteria-style restaurant also offers some fast food and pre-made sandwiches are also available.  There is also a gift shop, where you can buy non-edible stuff, such as pie-making stuff, toys, handbags and of course t-shirts.  But careful if you have kids – read
Barbara Kay's warning
about a whole section of "raucous" and "perverted" t-shirts.
But I digress.  The whole point of stopping at the Big Apple is to buy a pie. That is the point.  Their pie oven can bake 144 pies simultaneously, and at the time of our visit, 3 164 185 pies had been sold at the Colborne location. Another location is set to open in Muskoka soon.
So I went ahead and bought an Apple Maple Pie.  It was the 48 390th one sold, very low compare to favourites such as the Traditional or the Mumble Crumble, with over 1 million sold each. Their pies are quite thick, well worth the 10$ asked for the size you get.  The crust is a tad crumbly, but it is fairly light and flaky.  It is a bit light in color, but it is still baked correctly.  The maple flavour barely came across, I was expecting more.  Still, a good pie, worth a quick stop on the 401.
Much better than trying to feed the llamas, which the ladies tried and failed miserably to do.
A new trend in sports stadiums around North America is to diversify – people are looking, apparently, for different fare than the usual hot dogs and pretzels.  I was
impressed
by the
Amway Arena
in Orlando.
So the Rogers Stadium has come to an
agreement
with
Aramark
to do just that.  So you can now find on the main concourse a very different selection, like the Muddy York Market in section 109, which is based on a "fresh market" concept showcasing fare from different Toronto communities, such as gyros and souvlakis, satays, kung pao wraps, salads, Mediterranean meze and sushi.  Who the hell wants to
eat sushi while watching baseball
?
There is also a Carvery station in section 122 – hot turkey or "
Keith's Red
" roasted beef sandwiches, this is the place to go if you like to pile it high, in bread, in meat and in dough.
Pizza Pizza
also opened a counter in section 134.  It allows you to bring back a full pizza to your seat. The selection is limited, and it is Pizza Pizza, but if that's what you are craving, worse does exist.
The Baker's Deli in section 125 serves a selection of sandwiches on different breads, such as ciabatta, pumpernickel or rye, with different meats, such as corned beef, pastrami or smoked meat.  Pickles, coleslaw or potato salad available on the side.
But what I really wanted to try was the
Quaker Steak & Lube
in section 134.  During a game, you could be a lucky fan and get a bucket of wings delivered to your seat! But luck is a tough thing to wait for when you are hungry, and hungry I was.
So I made my way slowly to the counter, peering at the game from the open concourse all the way.  Melissa had asked me to bring her something non-meaty, which I thought was a little weird, but I am not the arguing type.  Thankfully, the Quaker Steak & Lube offered some vegetarian options, including the basket of onion rings.  Perfect for her, I thought.
However, this was a bit disappointing.  Thick rings of onion, they were crisp but not overcooked, and they tasted great.  But for 6$, there was only 8 rings in the basket.  That ain't cheap.
The wings looked great. Busy people in the kitchen were tossing them in the different sauces and seasonings available. They were being offered in three sizes : single order, half a bucket or a full bucket.   I asked how many wings were in a half-bucket, and was told 25, so I thought this would be just perfect, and for 21$, it is a deal at the Rogers Stadium – a price not unlike what you would pay for wings in the outside world.  There was a lot of flavours available, and I hesitated a bit.  Louisiana Lickers sounded tempting, but the manager corrected the cashier when I asked if they were spicy – apparently, not so much.  I asked him about the BBQ Chipotle since she didn't seem to know what she was talking about, and he pointed out that this was a dust as opposed to a sauce, and that it did have some kick.  Sold!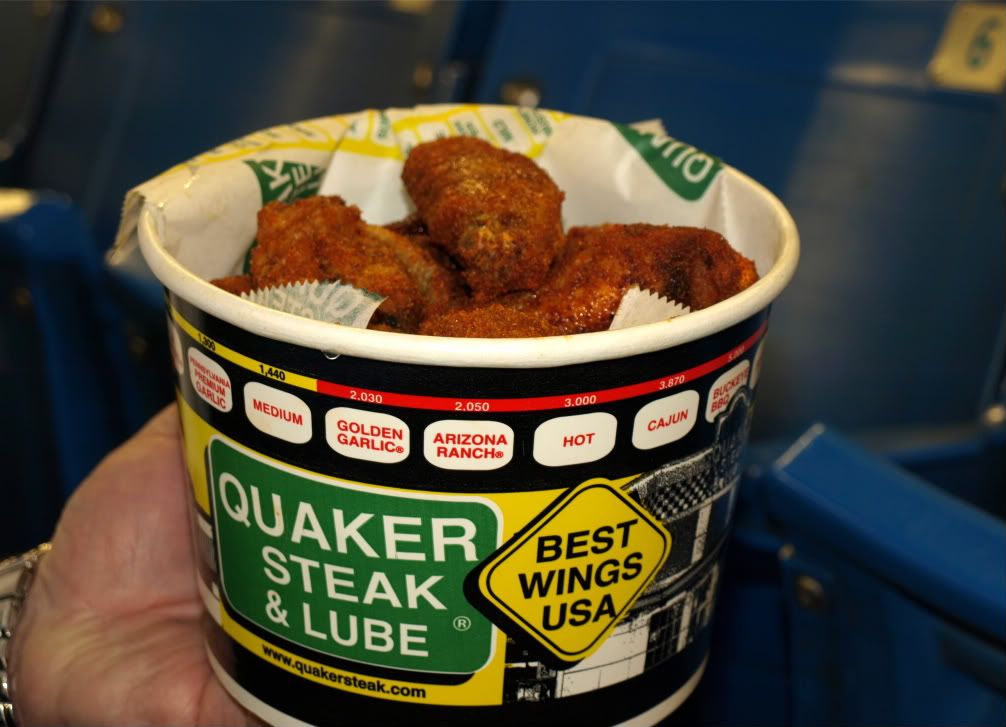 I was pleasantly surprised.  The wings were warm throughout, they were meaty, they were tender, they were well cooked, they were fully seasonned, they were simply great.  The chicken was of a good quality – it was impressive.  In a stadium, you never know what you can end up with, but these wings were just the right size.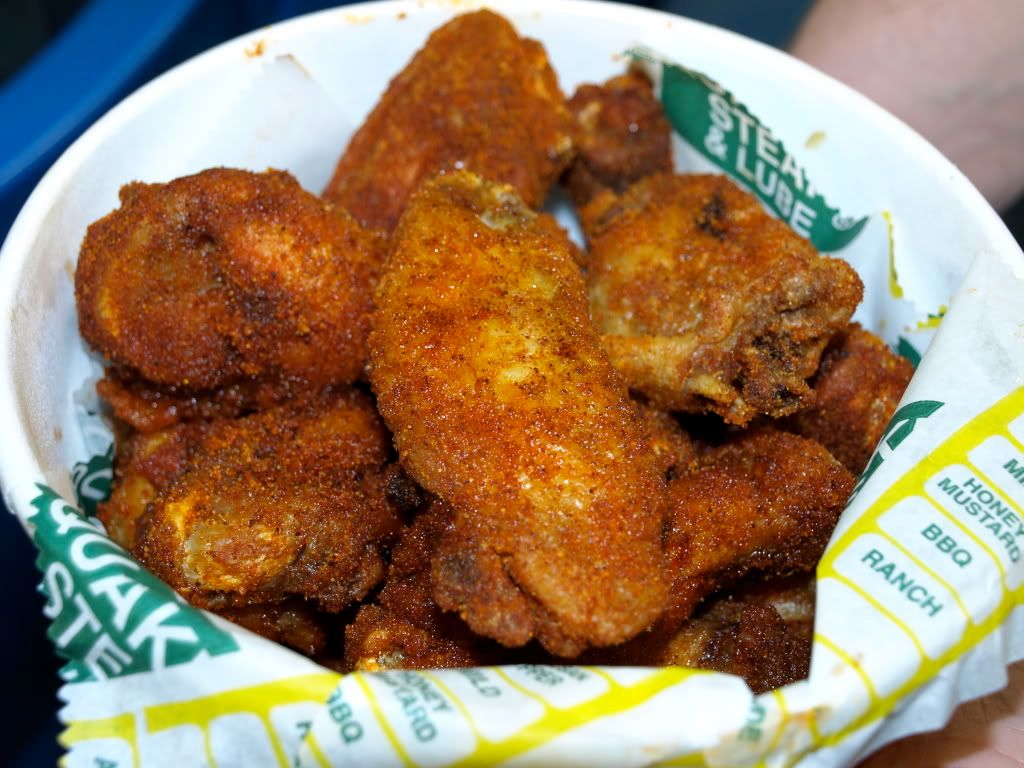 The spices were raw, and by that I mean that the chicken is not cooked with them, the spices are added after the wings are cooked.  Same goes for the sauces, and it is in fact the case in most places. Their melange was quite salty, and the overall flavor reminded me of the old style Lays Chips BBQ flavor, with more punch and a hint of chipotle.  The chipotle was much more present in the aroma then in the taste, but I didn't mind – when overpowering, you can grow tired quickly of chipotle.
I shared a few wings with my seatmates, but I still ended up quite full at the end of the bucket.  There were 19 wings in the half-bucket, less then promised, but at about 1$ a wing, it is still a valuable purchase at the Rogers Stadium.
The
game went on and on
, all the way to the 12th inning –
Lyle Overbay
hitting a 2 run walk-off homerun to give the contest to the Jays, leaving us full and satisfied.
After
a night of baseball
, which included an encounter with
Kelly Gruber
and
Rance Milliniks
at Arriba (which incidentally was not broadcasting baseball but hockey games), I was in charge of finding a location for a breakfast and recovery meal.  Thankfully, I had brought along my
CheapEats Toronto
book.
Near the Skydome, there was not a lot of recommendations.  One caught my eye immediately though, the Avenue Open Kitchen on Camden Street in the Entertainment District.  It caught my eye for the location (near Queen and Spadina) and for the prices listed ($3.95 for a breakfast plate before 11 am); and it was listed as a "greasy spoon".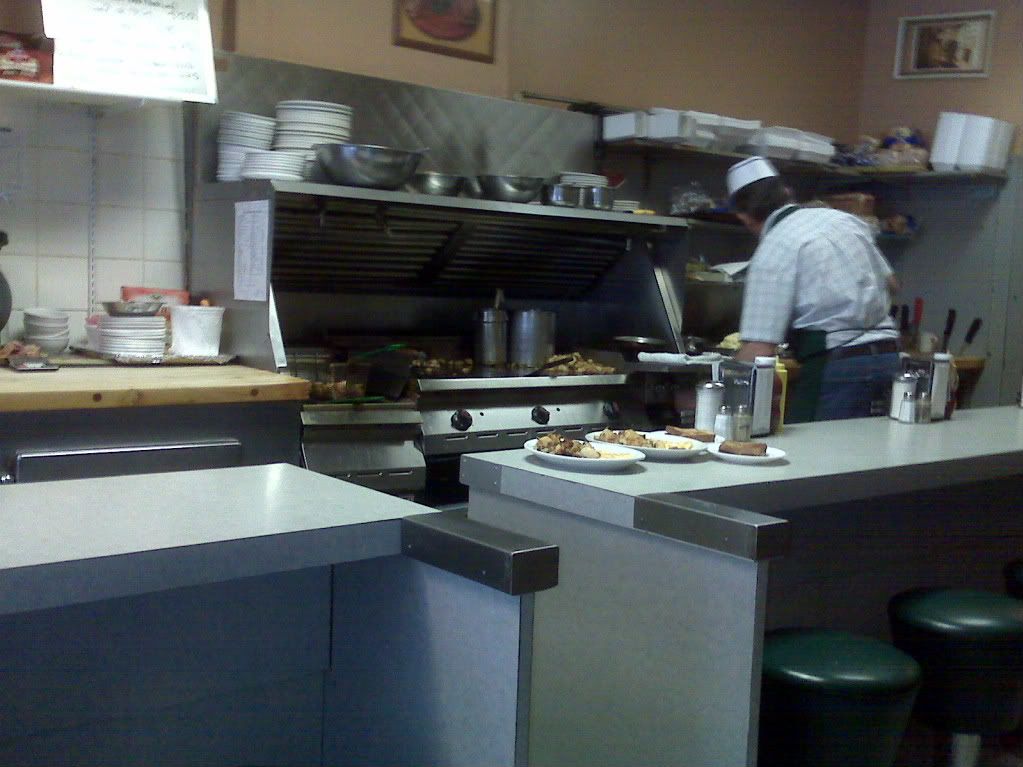 And so we ended up there.
Classic diner environment, a long and narrow room, with stools by the open kitchen and small booths by the wall, an old fridge filled with pop, newspaper clippings and old pictures hanging everywhere.  The chef is one of the owners – his face is on a couple of the photos, although he did look younger and therefore probably was when they were taken.
Cheese omelette was the way to go for the Ladies.  Great fake cheesiness was inside this nicely cooked omelette, and the ladies looked content and ate with appetite.
For my part, I had to go with the peameal bacon and scrambled eggs special.  The eggs were impressive.  Usually, in establisments of this calibre, the eggs are overcooked and dry.  Not the case here, they were great, smooth and very tasty.  Two big pieces of bacon came with, and those were just great.  Peameal is not exactly a fine cut of meat, but it was perfect to get me started for the day.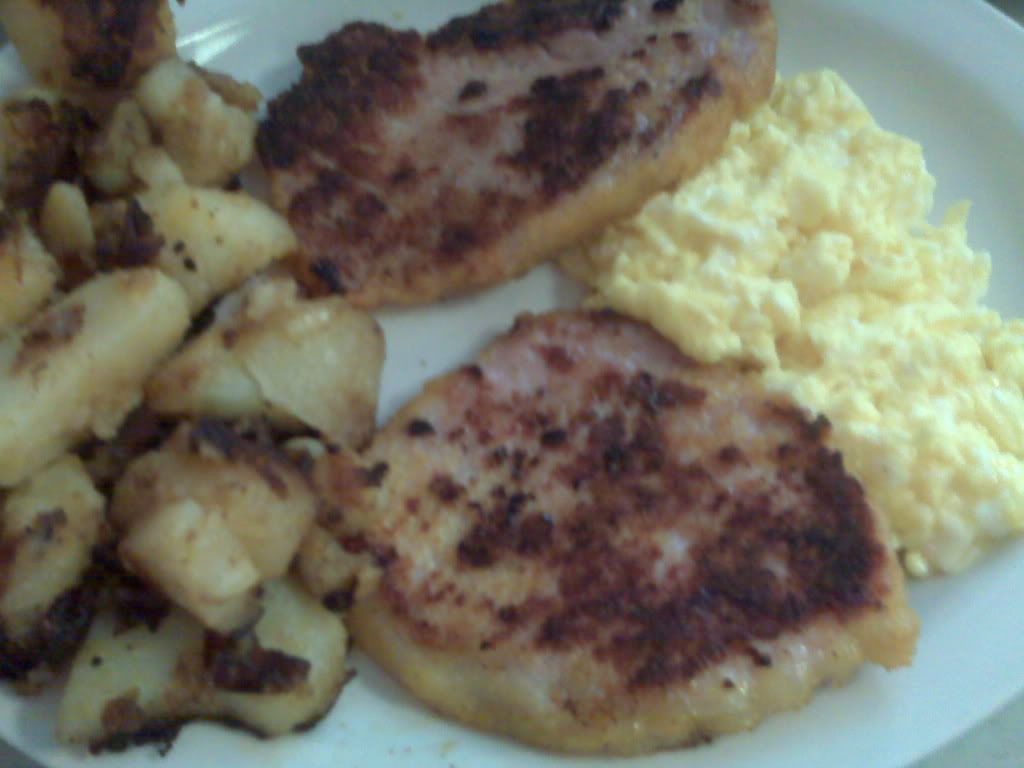 As for the home fries, now these were a real treat.  Real potatoes, nicely grilled on the plaque, with bits of onions – no deep frying, no freezing, no breading – they were fantastic.  On the negative side, the bread was not great and had too much margarine spreaded on them.
Scott read the news clipping on the wall.  A very complimentary review, claiming that "what you may not realize is that there's a fine art to making food that tastes so good but makes you feel so bad (physically and mentally). They then proceeded to highly recommend they $6 chicken fingers and fries combo – now a little over $7.  So no matter that it was only 10 am, Scott ordered the said chicken fingers.  And he was not disappointed:  thick, real chicken filet, breaded and sizzled perfectly.
The fries were not as great – nowhere near the deliciousness of the home fries.  The review on the wall did mention that the fries were overcooked back then – however, Scott had better luck and with ketchup, down they went.
But the chicken, oh, the chicken!  The fibres I could see with every bite almost made me regret my choice – but not quite: after all, I got peameal bacon!  And it cost less than $30 for the four of us!  This place may become a favorite of mine – especially since many reviews can't stop raving about the lunch daily specials.  A hidden gem.
The Toronto Blue Jays are
off to a hot start
, and today the Oakland A's were in town.  
Josh Outman
was starting for Oakland and was facing 
David Purcey
.  I could talk to you about the game, a good one for sure, but you can read all about the Jays' defeat
here
.
I have complained before about the price of beer at the
Rogers Centre
.  Well, it hasn't gone down.  The alley vendors are selling tall
Budweiser
(or
Bud Light
) cans for $9.50, and a large draught at a Bud Booth is $10.
Shame, I say.
I was, however, looking forward to some food.  Although I had had a snack already, I was curious about how the new offerings at the Rogers Centre would turn out. I had seen some "coming soon" signs when I came here for some WBC games back in March.  But when push came to shove, and the score being 5-5 in the 5th, I had no choice but to go all in for a classic – the hot dog.
This is what baseball is all about.  Strategic pace. Beer. Heckling. Hot Dog.
And therefore, a hot dog is what I got.  I couldn't go wrong, a hot dog from the Grille was the recommended buy from the New York Times – they offer advice on what and what not to buy in every ballpark in MLB.
I went to one Hogtown Grill, which is basically a cooking station, and there are a couple of them around the concourse. If you are looking for a dog, you do want to stop there as opposed to a regular hot dog counter.  They don't actually have a grill, but a hot plaque. On top of the weiner, they offered, for an extra cost, to grill some peppers and onions.  I declined, and went for a classic dog, garnished with mustard and ketchup.  Hot peppers and relish were also available.
The sausage was nice, with a bit of a snap.  Very meaty taste, not too salty, it was pleasant.  I thought the bun was too bready, but at least it was fresh.  Kudos for the cardboard container, a better choice than styrofoam or aluminum bags you can see in some other stadiums.  All in all, a fairly good hot dog, which was enough for me for the night, but at $5, it is not a cheap dog.
Many regulars recommend
getting one from a street vendor
right outside the stadium. But I couldn't be bothered, and besides, I want to be sure my sausage is included in the total needed to cover the distance of 3241 stolen bases, which is what the number of hot dogs sold each year at the Jays home park amounts to.
The Rogers Centre allows you to bring in outside food.  A good policy to help folks save some money, especially in these dire economic times.  I prefer to enjoy the stadium fare, but if I had a chance to come more often, I would probably pack a snack here and there.
We arrived in Toronto fairly early – we made good time, thanks to a combination of speed mania and pregnancy.
For our stay, we rented rooms at the Renaissance which is attached to the Rogers Centre. We checked-in, settled in our rooms, and proceeded to Arriba for refreshments.
Arriba is a self-described Modern Mediteranean Restaurant and Lounge.  Seems like an odd choice for a place with a view on the Rogers Centre, but hey, what do I know, perhaps baseball fans visiting Toronto are also fans of Mediteranean fare.  The view is quite neat, and having a good meal is enticing, but if you do make reservations for game time, please be aware that you need to spend at least $50 per person – $75 if the Red Sox or the Yankees are in town.  No charges for the Expos, though.
We sat just in time for the pre-game warm-up, as the A's players slowly crawled out of their dugout to stretch, run around, play catch and do some batting practice while the Blue Jays were wrapping up their own warm up.
From our seats, right by the window, we could see very well. It was quite neat to sit in this loungy environment, and I proceeded to have a quick look at their beer list.  Not a bad selection, a bit pricey but better beers and better prices then in the stadium, no doubts.  So I ordered an Okanagan Spring 1516 Bavarian Lager.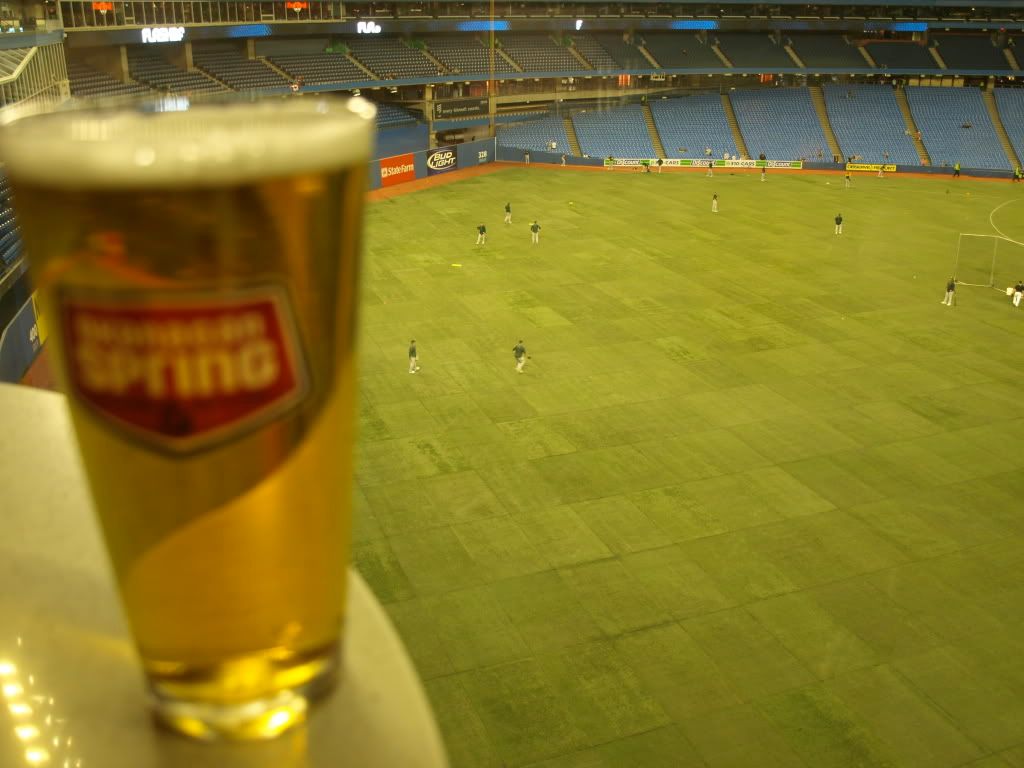 So the beer is brewed according to the Bavarian Purity Law of 1516.  The Reinheitsgebot stated that only four natural ingredients were to be used to brew beer: barley, water, hops, and yeast.  Okanagan Spring claims to follow the true four ingredients recipe, which makes the 1516 a classic Pilsner.  Of a golden clear colour, it is more flavourful beer than the usual commercial Pilsner, but it is pretty low key, the malt being much stronger than the hop. It is pretty close to a Helles, I would argue.  It has a fairly crisp and clean finish, slightly bitter-sweet.  I had a couple more before the game.
As we kept watching the Athletics warming up, using a weird cone-system to measure warm-up distance, my attention was attracted by the tapas menu – half-price from 5 to 7, Monday to Friday.  I smelled a deal.  The tapas selection includes mussels, calamari, quesedilla, bruschetta, chorizo and shrimp.  But we selected, to share, the Yam Fries and the Chicken Wings.
The fries were served with a garlic aioli, which was very creamy and not too garlicky, with a subtle touch of dijon.  Now, they did call them Yams, but really, they were sweet potatoes. It is interesting as a french fry because it is sweet and very dense.  You have to cut them julienne-style, which is what Arriba did.  They were quite salty, probably an attempt to compensate for the sweetness, but it was not overpowering.  It was a pretty big bowl, and at $2.50, a pretty good deal.
The wings were surprising. I have got to admit that a guy at the table next to us ordered them before we did, enticing us by doing so when he gulped them quickly and happily.  He in fact had ordered more by the time we received our order.  Eight wings for $4.50, not a bad price at all.  They came in a fancy rectangular plate, all neatly lined-up and garnished with green onions.  The sauce was a barbecue-type one, spicy but with a low heat level.  The breading was fairly light, crispy but not hard.  They were fairly meaty, and they sustained Scott and I until the game.
.
On our road trip to Toronto, we had to stop for lunch, and Scott had pre-selected our lunch spot for us:  we were to stop in Kingston, at Bubba's Pizzeria.
According to Scott, this place, located on King Street, is standing room only when the bars are closing.
It is easy to see why: Bubba is a small place.  12 people could sit at the table in the middle, a few more on stools by the window. But as we walked in today, there was one person eating a burger at a table and another one was leaving with a pizza.
Scott was also claiming that when he visited his brother here when he was attending 
Queen's
, this was the best poutine in town. Sure enough, the store's window was proudly displaying it's #1 poutine in Kingston as
awarded by Queen's Journal
. However,
The Poutine Puritan
ranks it #2 in the Kingston area.
A sign at the back of the room, right below the TV which was blaring some american insipidity, was proudly informing us that NO OUTSIDE FOOD was allowed on the premise. I felt reassured by such confidence from the owners into the quality of their food.
The menu was simple enough, but I didn't really investigate: after all we were here for poutine. So both Scott and I ordered a large poutine, but I was a tad bit worried and  I decided to complement that with a hamburger.  After all, both the poutine and the hamburger were at a special price at this hour – in fact, their special menu is on from 11 am to 11 pm: the drunks can cough up more to enjoy Bubba's fare.
And many would argue that you have to be drunk to enjoy what came next – but I was 100% sober.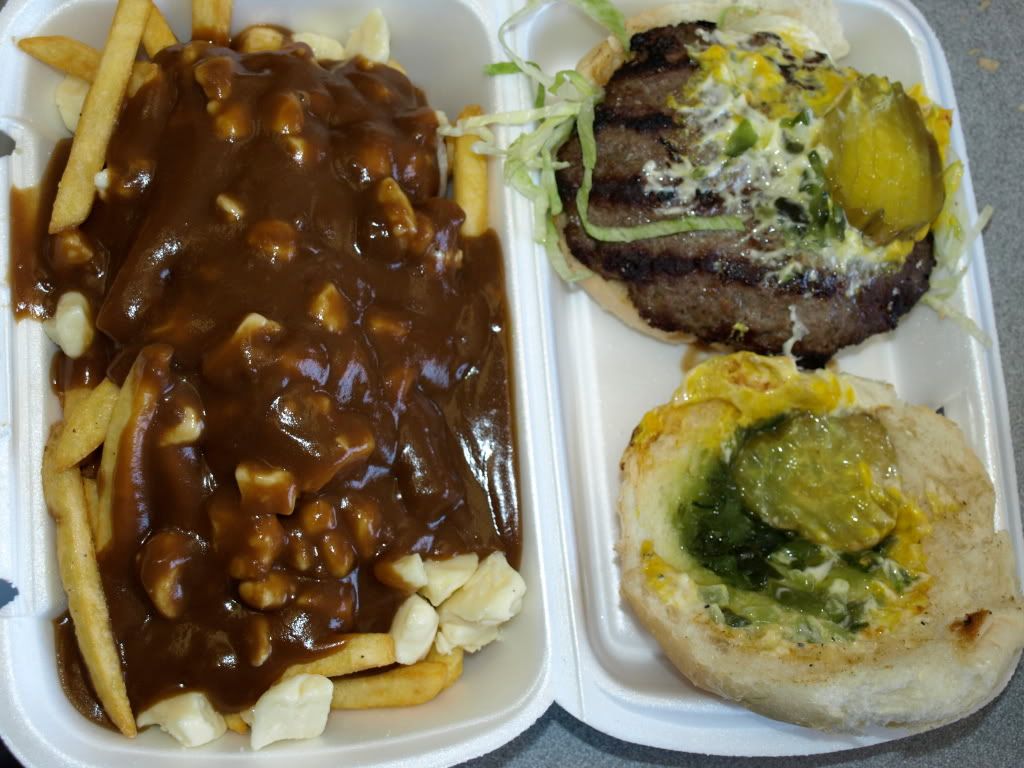 This is Bubba's Quebec Style Poutine.  It definitely looked like a Quebec poutine.  Fries. Gravy. Cheese curds.  The fries were passable – clearly a frozen-type, they were fairly crisp and didn't get soggy, which happens with fresh fries that are not blanched beforehand.  The cheese curds were nothing extraordinary – no "squeek-squeek" noise here – but they were curds, which is a plus.  It seems that they are also kept at room temperature, which permits the curds to be warm throughout with a slight melt on the outside – but very slight here.  The gravy was just that – a very thick, brown gravy.  The thickness is also helpful to keep your fries crisp until you are done.  The gravy was not too salty, which is good, but not very tasty either.  A plain, classic old-fashioned meat-based gravy. No screwing around, no experimentation, just the basic, bringing together the ingredients, coating the fries nicely to gave me the best poutine I've ever had in Kingston.
As for the burger, well, it wasn't too too bad.  It looked worst than it was.  The taste reminded me of a Harvey's burger.  Even though they claim it is made from 100% fresh ground beef and charcoal broiled, it seems to me that the patty had been frozen – for which, strangely, I am thankful – nevertheless, it was grilled nicely.  The beef was lying on a thin bed of thinly sliced lettuce, and the condiments, which weren't spread evenly on the bun, included mayo, mustard, relish and pickles/  The bun itself was fresh – and they must serve a lot of burgers considering how many buns were pilled around the tiny counter at the front.
Melissa was tempted by the Italian poutine – the cashier immediately informed her that it came "with meat sauce, ya know? " Clearly, we must not look like regular townies or not as informed as Queen's students.
Melissa did enjoy her poutine, although, as far as I am concerned, their meat sauce doesn't have enough meat.  It is more like a tomato sauce, with some meat in it.  If you like tomato sauce, as opposed to a good meat sauce, well, there you have it.  It looked somewhat homemade, though, and it was warmer than the gravy, as it melted the cheese much faster.
Thankfully, we had a vegetarian pregnant lady to bring down the average calories and carbo-hydrates per person.
The veggie wrap.  Well, it is a veggie wrap, what the hell do you want me to say?  Vegetables.  Yay. It looked good enough, and the veggies looked fairly fresh.
Bubba's Pizzeria is getting mixed reviews, but for $10, I got a poutine, a burger and a coke, and I was full and content.  The poutine sank in my stomach as we hit the 401 again.
There are a lot of Thaï restaurants in the National Capital Region.  
A lot
.  
You can almost never go wrong, but it is quite hard to go all the way to the top.  
Green Papaya
– a local favourite – has four locations, and its sister chain,
Hot Peppers
.  
Siam Bistro
was a hit, before it burnt down. (They now have re-opened.) In the market, you make a pretty good choice if you end up at the
Royal Thaï
.  
Siam Kitchen
and
Som Tum
are also pretty good, and they both offer nice combo plates. Considering its location way out in Ottawa South,
Sweet Basil
is good, but overpriced. On the Quebec side,
Chez le Thaï
is quite good, and they have a great backyard terrace in the summer.  Le
Lotus Royal Thaï
on Montcalm is small, pricey, but excellent.
But without a doubt, in my opinion, the best Thaï restaurant in Ottawa is
Coriander
. Located on Kent at the corner of Cooper, Coriander is bigger then it looks from the outside, but most often the upstairs is closed – leaving patrons to squeeze into the smallish main dining room on the main level.  
But we are not there for luxury comfort – we are there for the quality of the food, and five of us made the decision to enjoy it tonight, at Cameron's request.
As a starter, the classic Thai Poa Pia Pak – two veggie-stuffed deep-fried spring rolls.  They used to give four, but they cut that in half to match their other spring roll offering.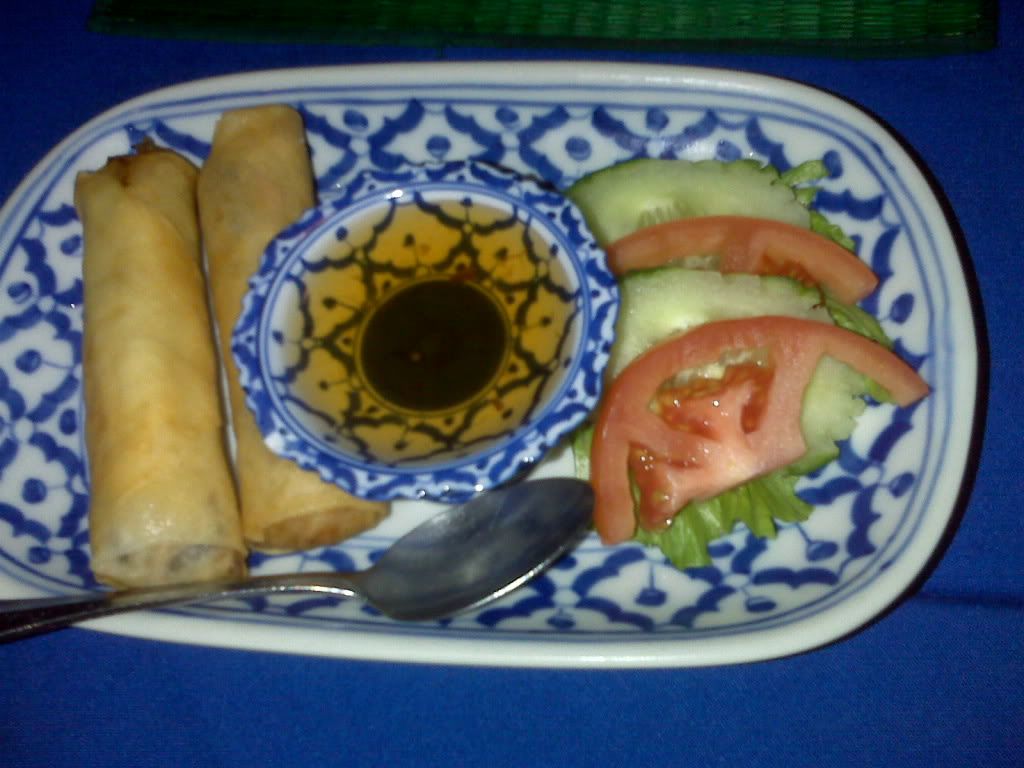 Warm and crisp, they are pretty good.  They are served with a clear, spicy and sweet fish sauce and a side of fresh slices of tomatoes and cucumbers, fairly fresh, but a C for presentation. You shouldn't judge the restaurant on the rolls, though.
As a main, I went with their Gaeng Keow Wan – a green curry dish with chicken and vegetables.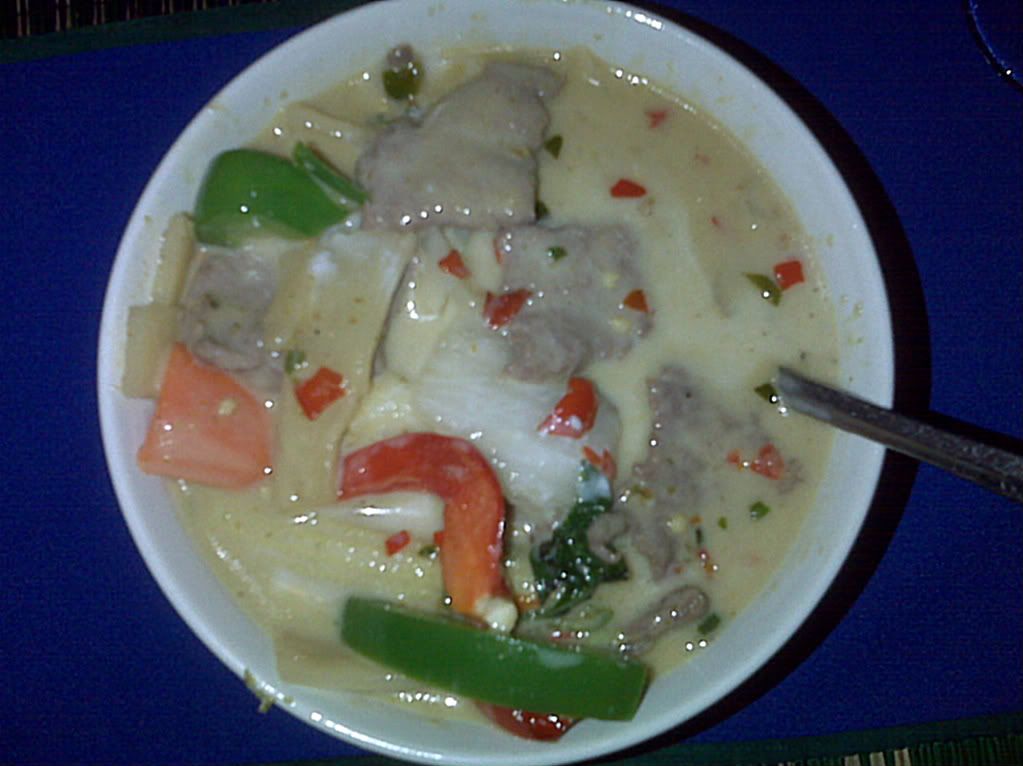 There is nothing like Thai Curries, and I especially like green curries, which are made with fresh chili. The chicken was quite tender and not overcooked, which is too often the case at Thai restaurants.  There were plenty of bamboo shoots, but it was light on the vegetable front.  The balance of the coconut flavor and the lemongrass, combined with a nice heat level, made this dish a pure delight, which I chased down with a couple of Thai beers.
Mel went for the Nuer Gra-pow, a beef sauteed with fresh chili and fresh basil.  If you like basil, this is your dish.  
s
The beef was tasty, there was a nice mix of onions, eggplants, peppers and chili, and the freshness of the basil makes this one a Coriander classic.  You are never disappointed when you order this dish – even if like me, you believe that eggplants are disgusting.
We also ordered rice – sticky was asked by most, but they somehow ran out of it – which I thought was weird.  Fine by me though, as I prefer steamed rice anyway.  
We footed about 40$ on the food, and we left satisfied.
We were having a few friends over for Easter brunch, and I had been thinking about trying something I had never tried before.  Well, yes, I do know it is wrong to try new stuff on unsuspecting guests, but I had to do it:  a ham on the BBQ!
I went to the
Byward Market
looking for the right piece of meat, and
Aubrey's
seemed like the place to go.  After all, they have been around since 1908. 
After looking at their selection, and being stopped from buying a half-pig, I settled on a quarter ham. Surely, it would be enough for 6 people.  Well, 5 really since one of them is vegetarian.  But you never know, she might be tempted, I thought.  
First, I brined the ham in salted water overnight, after bringing the ham to a boil and letting it cool down.  In the morning, I basted my ham with a sauce made of maple syrup, wholegrain mustard and
St-Ambroise beer mustard
 for an extra zip.
And hop, on the barbecue!
I grilled it slowly on low heat, with some wood chips to add smoke, for about three hours, basting it regularly.  The result was a very tender, very tasty ham, and the combination of maple syrup and the two mustards worked great.  I served it with scrambled eggs and some real home fries.
When folks arrived, the ham wasn't quite ready in my opinion. But I had prepared some hors d'oeuvres (crackers, red pepper jelly, bocconcini, fresh basil) and a nice fruit plate for people to eat while they waited.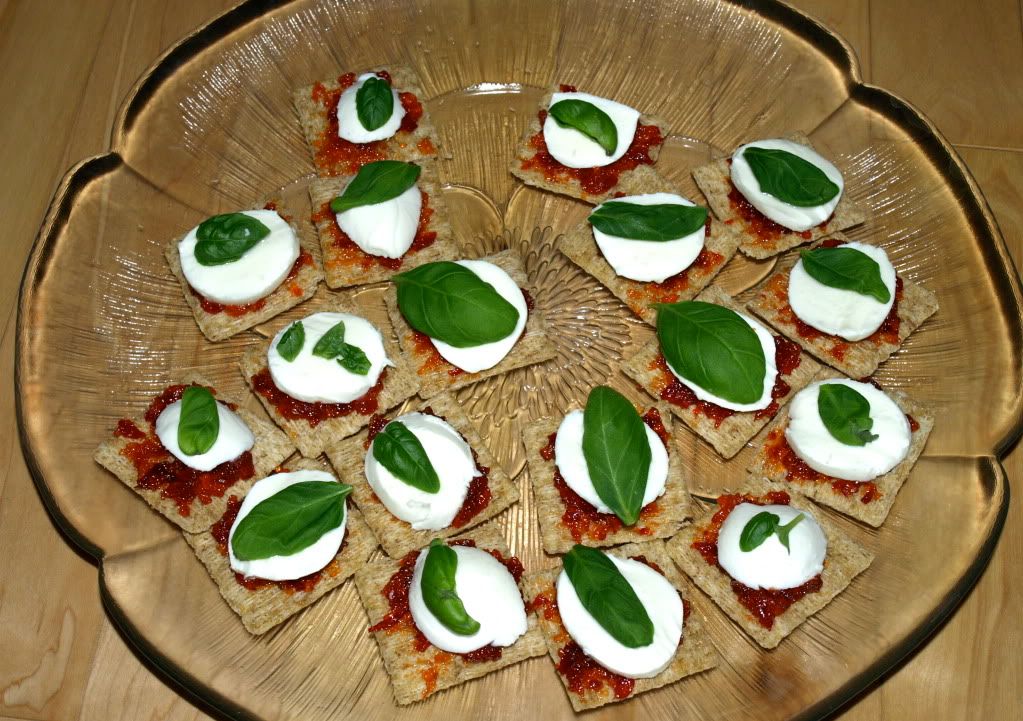 For the finish, Melissa had something special and, frankly, very pleasant to the eye.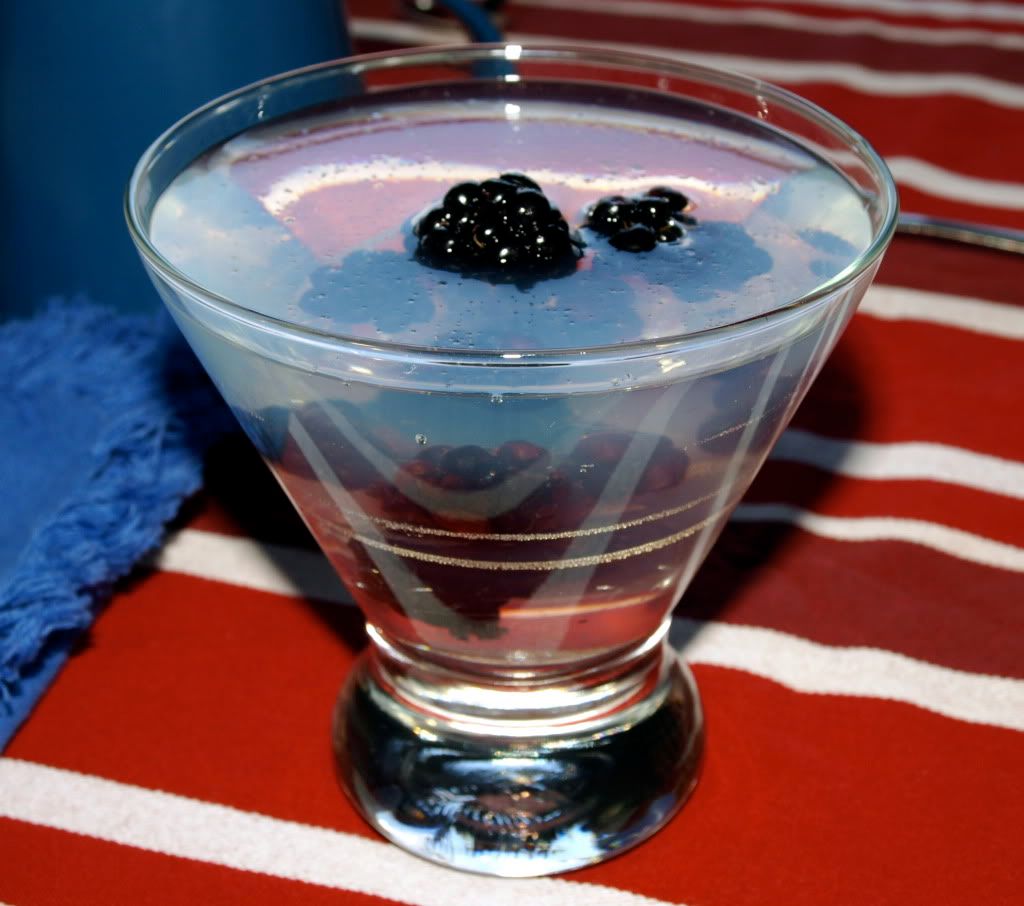 Sparkling water, rose water, gelatin, blackberries.  A nice and refreshing dessert, quite filling but lovely.
In Ottawa, people often try to use food to promote their cause, their organization or their business. Food and politics do mix well, apparently.  So much so that Maclean's has a
full time guy
covering the scene (
candy Martini
, anyone?
) , and so does
the Hill Times
.
It happens all the time, and politicians, staff and especially interns are always happy to indulge and enjoy free food. And booze.
Which brings me to the most recent food-related marketing operation that I witnessed, which was certainly different and interesting.  And it made a lot of people smile, which is a plus when you invest time and money to promote your business.
After working in politics for close to a decade, Ian Capstick left the NDP after the last election, and he set up his own communications consulting shop,
MediaStyle
.  Ian's proposal is to bring in tailor-made progressive communications & training. Talking of tailor-made, he gives fashion advice too, so that progressive politicians, advocates and other proponents of social change are no longer seen as a bunch of hippies. Basically, he wants them to drop the "pies".
Capstick is a foodie in his own right, and people always look forward to the parties he throws with the help of his partner Shawn.
So no wonder then that, as part of MediaStyle's promotional strategy, Capstick has been distributing fancy cupcakes around the Capital in the past few days.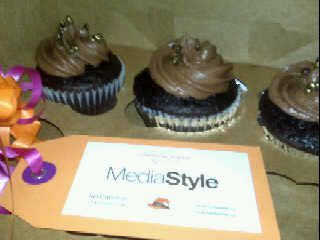 The cupcakes came in boxes of 12.  One was dropped at the NDP Caucus Services' office on Queen Street.  It came coifed with an orange tag and purple and orange ribbons.  MediaStyle's trademark, apparently, is an old-style reporter's hat, complete with a media card tucked in the band.  I say apparently because the orange hat is not immediately apparent on their website.  
Chocolate cupcakes with chocolate icing, topped with gold nuggets,  they were inserted in a aluminium foil wrapper on top of their regular paper one.  As I said, fancy. 
The base was very, very rich.  Lots of butter seemed to be the trick, the texture was very moist and the cake held together quite well.  The chocolate flavour was strong yet smooth.  The icing was not as rich, and the flavour not as strong – a nice complement.  It was on the verge of getting dry, giving it an almost imperceptible crunchiness.  It might be due to age and exposure to air, and wasn't a major flaw.  The gold nuggets topping it all didn't really have any effect on the taste of the cupcake.
If people do take the cupcakes as a proof of what MediaStyle can deliver, then they'll make good money because those were good cupcakes.  "It was the best cupcake I've ever had," said Scott.  Now, of course, Scott specialize in ATI requests, and he admitted that cupcakes were not his "cup" of tea.  Still, a winner for MediaStyle.