When I go back to Quebec City, there is one obligatory stop.  I have to stop at 
Chez Ashton
and enjoy a great poutine.
Always great, always fresh.
The first Ashton opened in 1969 – it was a little snack-bar located in an old bus at the corner of Hamel and Notre-Dame. The owner, Ashton Leblond, brought back poutine from a trip from his brother's snack-bar in Arthabasca in 1972, and it was the dish that kickstarted the expansion of the chain.  There are now 25 establishments in the greater Quebec City area – the furthest one being in St-Georges-de-Beauce.
They did try to expand to Paris at some point, but for some reason it didn't pan out.
This Holiday Season, we were not going to miss out on a great Ashton poutine.  After a late New Year's party, it was the perfect way to recover.  In between two familial visits, we stopped at the 1st Avenue location, in lowertown. (A favorite of mine, this location is open until 4 AM on Fridays and Saturdays - I have made a few stops there before going home a few blocks away in my university days)
Even though it was New Year's Day, it was open, and Mel and I were very grateful.
The great thing about Ashton, is that everything is made fresh, and most of their suppliers are local.  Fries are hand cut in the morning – the potatoes are grown on the Orléans Island. Cheese curds are delivered daily.  Their branding is about how fresh things are, and it is mostly true.  Although there has been rumours about how they processed the meat in their "pain à la viande" (a hot-dog bun filled with saucy ground beef, topped with onions and ketchup).
I ordered their Trio du Lac.  A "Hot-Dog du Lac" is inspired by the traditionnal way of serving hot-dogs in the Lac-St-Jean area – with sliced cabbage, mayonnaise, and topped with fries IN the hot-dog.  Wanting to be healthy, I declined the fries option for the trio – after all, there was fries IN the hot-dog, and opted for the green salad.  The trio was completed by a ice cold Pepsi.
Eating a hot-dog garnished like that reminds me fondly of my days at the Jonquière CEGEP. In the SagLac area, hot-dogs are quite often garnished with cole slaw and fries – there are a few spots that I loved going to :  Goofy in Alma, le Pavillon du Hot-Dog in Jonquière, and the now defunct DEC Café, 50 meters from my student apartment, who offered 2 fully loaded "hot-dog du Lac" for $1.99.  Great deal for a student!
Anyway, Ashton's hot-dog is alright.  Their sausage is fairly big and juicy.  You need to like the combined taste of mayo and cabbage, and need not to be taken aback by the fries on top.  The side salad was relatively fresh = the lettuce was crispy, and the tomato wedges still firm.  The baby carrots however were quite dry, and you could see dry white spots on them.
As a side to my Trio, we got the regular Ashton poutine, the real reason of our visit.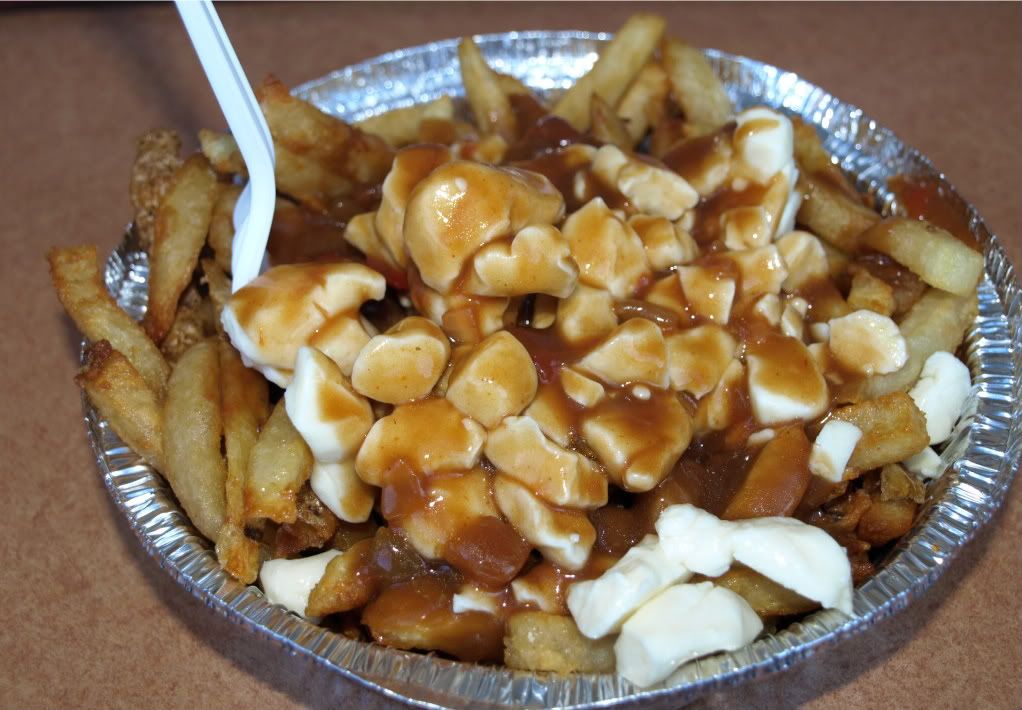 Now, we are talking poutine.  The fries are fresh, very tasty, with a nice crunch.  They are not too long and don't get soggy.  The brown sauce is a tad thick, which prevents fries soggyness,  and not too much of a salty gravy compared to many other sauces out there.   The cheese curds are fantastic – as I said earlier, they are delivered daily from la
Fromagerie Côte-de-Beaupré
and they keep it at room temperature, making sure it will keep a perfect level of moisture, in order to melt just a little bit and yet still make the "squeek-squeek" noise real poutine connaisseurs are expecting.  And Chez Ashton, they are not cheap with the cheese.  It explains the fact the poutine is a bit pricey, but it is well worth it. The cheese has to be fresh, but since Ashton is buying 600 000 pounds of cheese every year, their provider is quite happy to deliver.
Ashton's poutine is a classic.  You can try their variations, either with the delicious "sauce piquante", or something a little more adventurous, such as the
Dulton
, the
Galvaude
or the
Sausage
.
A Trio du Lac and a regular poutine costed us only $16.00!
Uncategorized
We had to go to Quebec City to celebrate New Year's Eve.  
I do not have a very big familly, so the gatherings on New Year's are usually pretty small. 
But this year, Jacques, my mother's widower, decided to throw a big party.  He hosted it in a big community room in the building where he had recently moved to.  The building being brand new, it is a nice facility to host events like these, with a fully equipped professionnal kitchen, restaurant-style. 
Interestingly enough, the building was built on the site of the church where I was baptised 33 years ago, in the parish of Ste-Odile.  The church had to be demolished because of major mold problems.
Mel had never been to a Quebec Holiday Family party.  She will never be the same.
First, the room was quite big.  But quite smokey.  Eveybody was smoking.  Everybody.  Well, not everybody, I don't smoke, but a lot of people were.  Like the good old days, when smoking was the thing to do.  Inside. 
Second, there were many drinks available.   The beer selection was comprised of Labatt 50, Black Label, Molson Dry and the Quebec City classic, O'Keefe. 
Sadly, Black Label and O'Keefe are no longer supported brands by the Molson Coors Brewing Company and are likely going to disappear in the next 10 years, as their market disappears with no new consumers making them their beer of choice.  I used to be a member of the Chevalier O'Keefe's club myself.  A long time ago.
Anyway, there was also some kind of tropical punch, plenty of hard loquor and mix – Bloody Ceasar, Rhum and Coke and Screwdrivers being the favorites.
As for food, I did scare Melissa by bringing her a plate of quality party food.
Ah, unfrozen shrimp. Weiners wrapped in bacon. Assorted vegetables.
Doesn't this look delish?
Alright, I should be fair, there was more than this available.
A selection of home made sandwiches:
Egg Salad
Ham and Mustard
Cretons and Mustard
Cheese and Butter
Chicken Salad Stuffed Buns – my favorite!
As well, assorted deserts, including a Black Forest cake.
And, to complete the night, Jacques had put some Champagne bottles outside to "chill out" before the countdown. It was -21.8 °C in Quebec City on New Year's Eve.  And some of the bottles, well, they froze.
All in all, a good time.