Browsing articles from "December, 2008"
I was off today, and decided to pick Melissa up for lunch.  She had an errand to run at the
SAAQ
– a Quebec driver's licence, no less – just by picking that up she improves her driving about 40% over an Ontarian licence holder – and I thought lunch would be a nice reward for becoming a good driver.
I enticed her into going to Scores in the Mont-Bleu area of the Hull sector in Gatineau.  It would be a change from St-Hubert, a definite Melissa favorite. Scores is a Montreal-based chain of restaurants, established in 1995, which has 38 locations in Quebec and 3 more in Ontario, with plans to open new locations in Ottawa and Oakville. It was bought in 2005 by PDM Royalties Income Fund, who also owns Pizza Delight, Mikes and Bâton Rouge.  (You can find my latest post on Bâton Rouge here!)
Their menu obviously focuses on chicken, but they are also pushing their ribs as their specialty. And today, they certainly are pushing their ribs, with a winter promotion of a full rack of BBQ Baby Back Ribs platter for $9.99!! I had no choice but to go for that, since it was bascially 50% off their regular price, and it also included the all-you-can-eat soup and salad bar – oh, and fruit!!
They use different deep fryers for their fries and other products, which makes for clean fries, of a good quality.  The classic burger bun is ok, and the bbq sauce is also decent; a bit liquid but not as salty as other rotisserie sauce. The ribs were very tender.  Nicely done with a nice sweet bbq sauce, which was, however, spread unevenly on the rack. Melissa went for the classic chicken breast.  The chicken was nice and juicy, a good quality bird.  The skin could have been crispier, but we're not supposed to eat it anyway, are we? Melissa complained that the sauce didn't attach itself to the things you would dip it in, which in my opinion is not that bad of a sign.
I also have to mention the salad bar, which was included with our meal.  It is fresh, lots of variety, with two choices of soup (today, chicken noodle and a tomato cream were offered) and plenty of fresh fruit if you are looking to skip the dessert for a healthy way to end your meal. All of that cost us under $30, taxes and tips included.  
In the Fall of 2007, in the old Au Coq building on St-Joseph in Hull , opened Georges, a trendy-looking lounge and grill by the owner of La Station, a Gatineau deli I wrote about here.
Georges' menu is self-described as eclectic, but their specialty clearly is beef.  Prime Rib and steaks are at the heart of their offerings, but you can also find a few pasta dishes, poultry and seafood.  They even have a gourmet poutine section in their menu.
I had yet to try it – and we felt like steak tonight, so we drove over there after hesitating between Georges and le Sterling, another Gatineau steakhouse.
The place looks very nice – hard to believe this was a chicken rotisserie place.  You enter into a spacious reception area, and you have the choice of going right, into a trendy lounge area for a more casual dining experience, with electronic music and electric blue lighting behind the bar.  Trying to attract a young thirty-something crowd, they are offering 5$ Martini Night on Wednesdays and a Ladies Night on Thursdays.
To the left, the restaurant area is a more traditional, with comfortable booths and a classic dining environment, although the open kitchen concept does not make this place a quiet one, especially when it is busy because it is quite a large restaurant.
As it was my first visit, I decided to order the item named after the restaurant: The Steak Georges,  a 10 oz Angus New York sirloin, served with shrimp and scallops, topped by asparagus and béarnaise sauce.  It came with grilled vegetables and mashed potatoes.
The shrimp were a little overcooked, and so were the scallops, unfortunately, making them a tad bit chewy.  Not a catastrophe, but still.  The asparagus were nicely grilled, and went very well with the sauce.  A béarnaise is a very rich sauce, and you do not need a lot to accompany your meal, which is what was going on here.  The other vegetables, a mix of green and red peppers, zuchinni and onions, were nice and crispy, with nice char marks.  La pièce de résistance, the steak, was cooked medium-rare as I had asked, and was very good.  The cut was nice, and the meat very tender and juicy.
Melissa decided to go for the beef tenderloin filet mignon.  She chose to go for the baked potato, and ordered peppercorn sauce on the side – a little pricey at $3.50.   The beef was a 6 oz Angus grade, and was also grilled as she had asked.  The baked potato was quite big and nicely done.  As for the peppercorn sauce, I am sure glad I didn't order a side too.  A thick sauce, it was very peppery and tasted very good with the meat, but why bring a swimming pool of sauce?  We're not going to swim in it, so why not bring less, charge less, and look less ridiculous?  I had never seen anything like this before.
A weakness, their wine selection is a bit thin.  Most of the wines offered are very good, but they are also quite expensive, with very few bottles below $30.
For two, with an appéro each, our meal and a bottle of wine, we got out of there with a bill over a $100.  Still, we didn't feel cheated, which is always a good thing.
.

A lot of my Italian friends would scream bloody murder at the mere mention of this chain of Italian-style bistros. Especially Laura.  But I am quite fond of Pacini. And for some reason, I have a history of girlfriends who also liked Pacini very much, which makes for cheap romantic dates. That's right.
For sure, it is not top-of-the-line Italian cuisine, but it is not fast food either.  The cuisine is simple, the prices are very reasonable, and the atmosphere very friendly.  Their wine selection is not great, but I've seen worse.
Pacini launched a new menu last fall, inspired by the work being done at the Pacini culinary academy (located at Bassano Del Grappa, near Venice), with a marketing strategy driven by italo-quebecker singer Mario Calliari.  You can even buy his CDs there, apparently, although he must be very popular because last time I asked about it at the Gatineau location, they were out.
The first thing you will notice at any Pacini location, and there are 24 accross Quebec, is their famous all-you-can-eat Bread Bar, which is included with most main courses. It is so famous they have trademarked the french expression, "Bar à Pain".
The Bread Bar consists of a very large grill, so that as many consumers as possible can grill at the same time a nice fresh piece of bread.
It has been the cornerstone of Pacini's success.  In 2003, Pacini struck an agreement with La Prairie-based baker  Gadoua, to revamp and uniformize the quality of the bread they were serving.  They created a new brand of Italian bread, Gustazzi.
Made with olive oil, they come in seven varieties, although most Pacini locations carry only a few, Sesame Seed, Multigrain and "de Ménage" being the most popular.
On top of the quality bread, you have the option of choosing from four different types of margarine.  Garlic, pesto, tomato-basil and regular.  The key for a nice grilling pattern is to be patient but quick.  You need to baste both sides of the bread with your favorite flavor.  You grill your piece of bread for about 40 seconds, then you turn it 90 degrees to have those nice grilling marks.  You then wait about a minute, not too long because you don't want the margarine on top to melt – and then you flip your piece of bread and repeat.  And then you enjoy.
The Bread Bar is also available for breakfast and brunch, although the flavoured margarine are replaced with jams.  They used to have peanut butter, but apparently it is now a killing maching, so no more open jars.
Tonight, I opted for a classic pasta dish: the penne primavera.  Pacini's version is made with asparagus, cherry tomatoes, red onions and peppers, sautéed in olive oil, topped with Napoletana sauce and some basil pesto Genovese.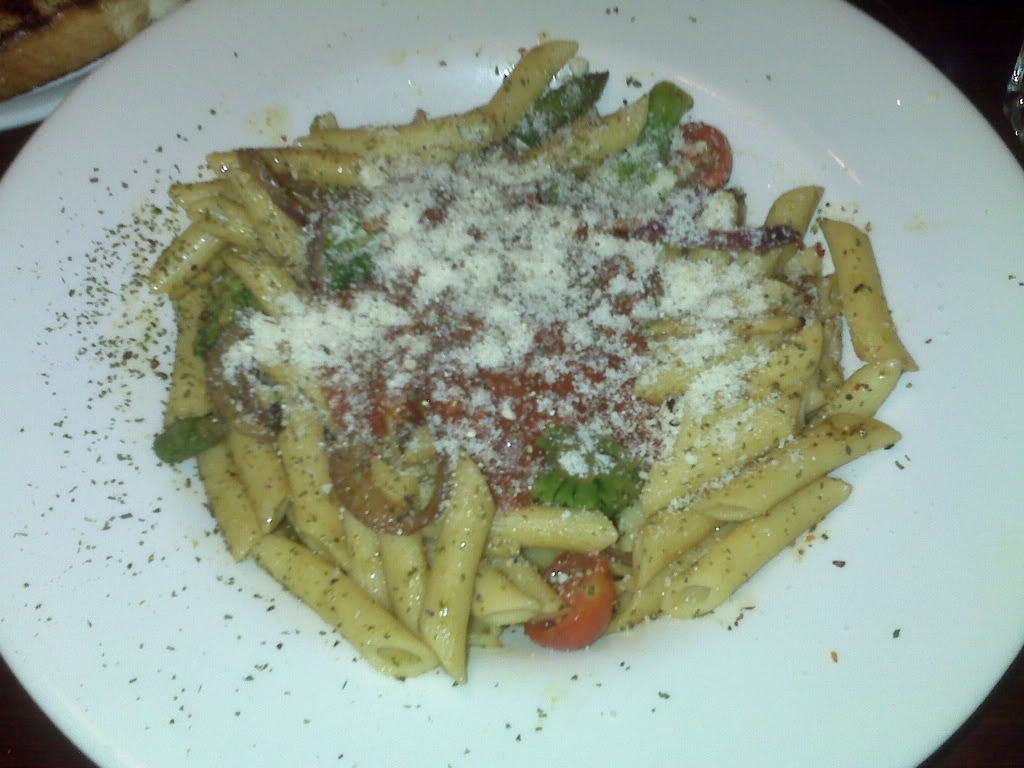 I of course added a healty serving of grated parmesan and fresh black pepper.  The penne weren't cooked perfectly, but it was still alright.  The vegetables were nice and crispy, the tomatoes firm and juicy.  Restaurants in general can over cook vegetables, especially in pasta dishes, and there is nothing worse than a mushy veggie concoction.  Might as well drink V8. The touch of pesto gave this dish the freshness it needed and did balance the sauce quite well.
Melissa on the other side of the table, hesitated a bit.  She usually goes for the Spaghetti Bolognese – Pacini's version apparently taste a lot like Mother's Pizza's version.  But today, she felt cheesy. So she went for the Spaghetti Robusto – spaghetti with bolognese sauce,  topped with a meatball, an italian sausage and capicollo, au gratin.
Now, they don't go soft on cheese, let me tell you that.  They use mozzarella, which is the cheese to use for such a dish.  There might be a bit too much, but shall we really complain about too much gooey, stringy, chewy warm cheese covered with Bolognese sauce?  Now, I like my Bolognese a little more meaty, but still, this is pretty decent.  And the Robusto is giving you plenty of meat to get by.
For two people, with a litre of their House Red, we got out of there with a little over $60.
.
What would the Holiday Season be without a series of Holiday Partys on and around Parliament Hill.  Each political party has its own, lobby groups and communication shops do too.
The New Democratic Party was of course hosting its own fest, with food and booze and attempts at humour.  This year we were at 200 West Block, a very spacious room where this party has been held before.  The other location has been the Hall of Honour in Centre Block, but not this year.
For those who have been around the Hill a long time, they know what to expect:  a buffet of salads – caesar, coleslaw, mushrooms, squash, garden, and carrots and raisins.  There are lots of different opinions about the selection – I personnally think it is not bad, everything being pretty fresh if not overly tasty.  The squash salad is a definite signature item – cube of cold orange squash, which should make New Democrats happy, but somehow, NDP Christmas party veterans such as Kevin and Sonja hate it.
As you can see below, the scene was a little scary by the time I got to the main buffet.  For some unexplained reason, the pasta dish on offer, a penne with a boring tomato-based sauce with soggy veggies, was pretty popular.  They brought more later, don't worry – yet I still avoided it.
For my main course, I decided to go with a holiday classic: a couple of slices of roast beef (they were medium – not a bad piece of meat, fairly juicy and tender) accompanied by a spoonful of commercial horseradish; steamed vegetables which were fair but not great; roasted red potatoes with herbs – a little dry which made the small ones crunchy, which I didn't mind; and a good helping of the aforementioned mushroom salad, a simple but effective compliment to my plate.
I didn't go for the turkey this year.  Although the gravy and/or the cranberry sauce that goes with it is usually pretty solid, the meat is fairly flavourless.  The slices are so thin and cardboard-like that you get bored of it very quickly.
Now for all of those out there who think that Parliament Hill's caterers are a perk for political employees let me be very clear, this meal, while decent and on par with caterers off Hill, still cost party-goers 40$ a pop.  I believe that none could argue that this is not on par with market value for what we got, especially that this was a buffet and not table service. And before you ask the bar was a cash bar, no free boozing for New Democrats.
.
For some strange reason, Melissa wanted to try
this recipe
she found in
Chatelaine
.  So we did, but we adapted it by changing the veggies.
Beef ramen with veggetables

2

85-g pkgs beef-flavoured ramen-noodle soup mix

2 tbsp of vegetable oil

1 small onion, thinly sliced

3/4 lb top sirloin beef

1/2 cup water

2 tbsp of soy sauce

2 tsp hot chili-garlic sauce

1 tsp dark sesame oil

2 cups of chopped green and red peppers

1 cup of sliced celeri
1. Bring 4 cups (1 L) of water to a boil. Remove seasoning mix from packages and set aside. Place noodles in a large bowl. Pour boiling water overtop. Soak until tender, about 3 min. Drain and set aside.
2. Meanwhile, slice beef into small strips. Coat a large frying pan with oil and set over medium-high heat. Add onion and beef. Stir-fry until onion starts to soften, about 3 min.
3. Sprinkle in 1 packet seasoning mix. Stir to coat beef and onion. Add ½ cup (125 mL) water, soy, chili-garlic sauce and sesame oil. Stir often, uncovered, until slightly thickened, 3 to 4 min.
4. Add peppers, celeri . Cook until the vegetables are tender-crisp, 4 min.
5. Add noodles and let simmer until noodles are heated through, 2 to 4 min.
Serve and enjoy.  Its not too bad. As long as the veggies are crispy, and the beef not overcooked, it is a quick meal and perfect for lunches. No need to salt, though, as those ramen package have plenty of stuff in it.
Apparently, ramen noodles are very popular in English Canada University dorms. Not so much in Quebec, if I recall correctly, although some hippies would go for it. I was never a consumer of this stuff myself, but if I'd known about this recipe, or been smart enough to come up with something like it on my own, perhaps I would have.  Although I doubt it – I was way more into Hamburger Helper.

Makes 2 to 3 servings.
 
.
Whisper's Pub and Eatery
is a regular hangout of mine, especially in the summer.  Because that is where the Gargoyles of the
OCSL
usually go after a game, to chill out and usually recap what went wrong.
From time to time, I do enjoy going there without a Gargs' uniform, for a late week-end lunch.  And that is exactly what we did this Saturday.  We hadn't actually planned to go there, but we just drove around and ended up in the friendliest pub in Westboro village.
I went for their Swiss burger – swiss cheese, caramelized onions and mushrooms.  With fries.
The fries are far from being the greatest.  They are pallatable, but I certainly was jealous of the salad Mel was having with her burger, and that is sad.  The burger was pretty decent, nicely cooked patty on a good quality bun.  The cheese is processed, which is too bad.  The onions were nicely fried but the mushrooms were from a can. The burger came topped with a pickle, a huge tomato slice, lettuce and raw onion rings.  Perhaps I should have removed the raw onions, but at the time, the double onion combination seemed like a good idea.  But apparently, it did no good to my breath.
Melissa went for their regular cheeseburger.
Same toppings as before, but the thin slice of processed cheese made it look kind of sad.  But it is decent nevertheless.  The salad on the side was an appetizing-looking mix of lettuce, red cabbage, cucumbers, tomatoes, shredded carrots and onions.  Everything looked and tasted fresh.
We got away with it for less than 30 bucks for two burgers and a pitcher of beer.
.
The
Press Gallery
Dinner used to be a big deal.  The
Governor-General
would perform, followed by all party Leaders, each of them pretending to be a stand-up comedian of some sorts, with more or less success.  It used to be off-the-record, but that has changed since, some blaming it on the arrival of the
National Post
.  Whatever happened, it got to the point were some networks, notably
CTV Newsnet
and
CPAC
, were broadcasting the Dinner live.
Transforming yourself into a stand-up comedian is not an easy task, and you had to salute the courage of these politicians.  But some grew tired of the challenge.  First to capitulate was Bloc Québécois Leader Gilles Duceppe, who vowed never to attend again after a bun-throwing incident provoked by a speech that wasn't well received.  Ever since, BQ MPs and staffers's appearance are scarce at the event.
In 2007, Prime Minister Stephen Harper decided to skip the event, his relationship with the Press Gallery not being so great.  Governor-General Michaëlle Jean also decided to take a pass, not surprisingly considering the unfair treatment she received in some media after her 2005 performance.
NDP Leader Jack Layton decided to attend, but announced he would not perform, leaving then-Liberal Leader Stéphane Dion as the sole politician performing.
The 2008 event was an unknown. Media types, lobbyists and politicos assembled at the Museum of Civilization, but no politicians would perform.  The event was scheduled for late November, in the midst of the coalition talks.  Full disclosure, I was a guest of
Sun Media
, thank you very much.  Gossip, speculations and alcohol were going to run freely.
You can read here, here, here and here how it went.
On this year's menu: 
Mixed green salad, beet and carrot "frizou", pears and dried cranberries served with a cranberry vinaigrette.

AAA Beef Tenderloin with Herb Au Jus, served with Gratin dauphinois and roasted root vegetables 

 
Crème brûlée
The mixed salad was a bit on the tart side, but it is hard to do otherwise when you go cranberries on cranberries.
The Beef Tenderloin was cooked medium-rare, and was of a good quality.  The root vegetables were quite tasty, and the Gratin was not bad if not surprising.
The Crème brûlée was uninspiring and quickly forgotten.  But that might have had more to do with the wine we all drank.
 
.