Browsing articles from "November, 2008"
Humphrey's on Bank is located in the old New Delhi Restaurant in the Glebe.  At the corner of Glebe and Bank street, in fact.  I first went a few weeks after they opened, and I was pleasantly surprised by their menu, which we could qualify as Indian fusion, especially what I thought ought to be their signature item: Tandoori Chicken Wings.  Ya, they kept the tandoori oven and were selling these delicately flavoured and nicely cooked wings.  I loved them and I did enjoy them a few times. Lots of their dishes are actually cooked over charcoal in the traditional tandoori oven.
We were enlisted with The New Strongs  for the World Trivia Night at the Aberdeen Pavillion at Landsdowne Park, and we decided that Humprey's would be a good spot to stop for a light dinner beforehand. 
The place was fairly quiet – a nuclear family to our left, a small group at the back, and the little jazz stage in the corner was empty – it was still early.  I do enjoy the feel of the place, though, open but cozy and warm.
But I was quickly disapointed – gone were the Tandoori Chicken Wings from the menu!  I expressed my displeasure loudly to the staff, who politely and with some embarrassment explained that they were simply not selling enough to keep them on the menu.  That is really too bad.
Still, we had to eat.  We started with some naan.  The equivalent of two breads, cut in thick slices, and sprinkled with sweet paprika.  They obviously make it on site, because it was very fresh, soft and warm.  Some purists might not like it, but I didn't mind them.  I was also starving.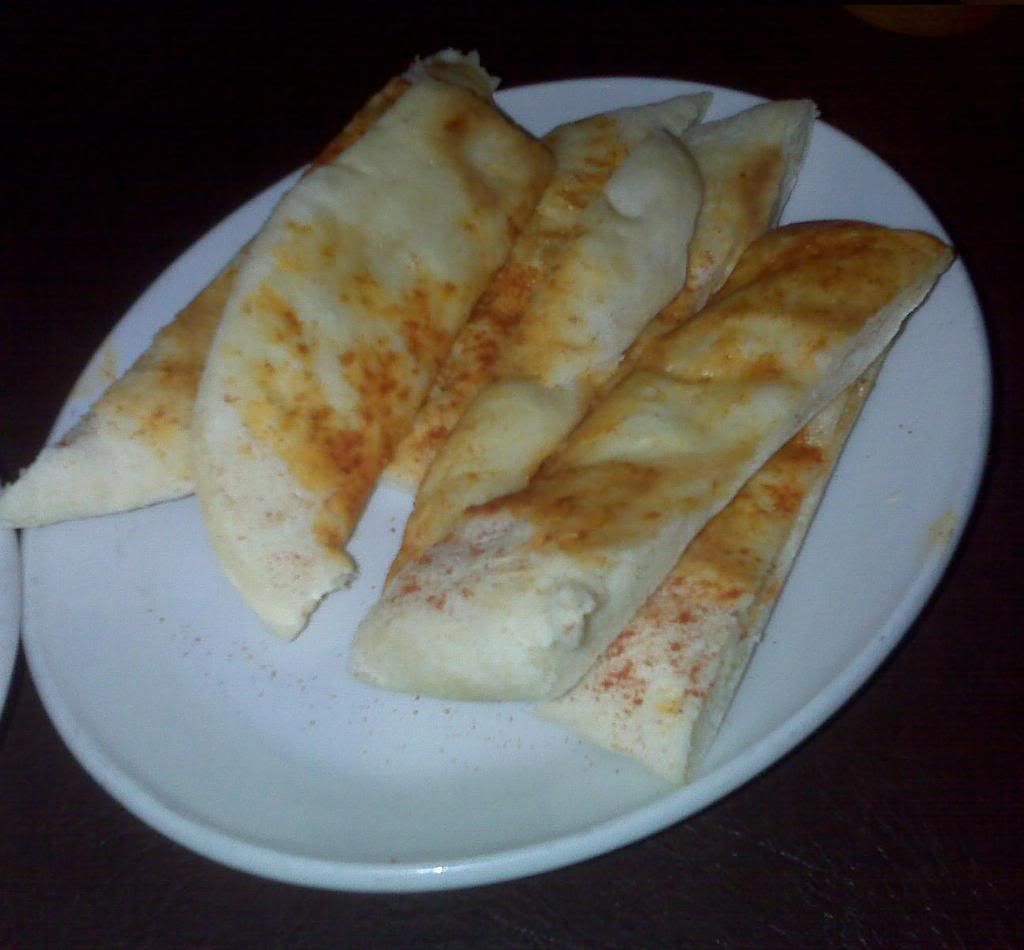 Melissa decided to get the red pepper and curry soup.  It came with a generous portion of naan-like sticks, but crunchier.  There was also a generous dash of cream to garnish the concoction, and I would argue a little too much.  The soup was really thick, but it didn't need to be that thick.  They had the good idea of serving the soup with a quarter of fresh lime on the side, which gave the soup a fresh tangy zip.
For myself, I ordered their chicken quesadillas.  It was a smaller portion than most establishment in Ottawa, with only four pieces.  The chicken was alright, and the quesedillas were also filled with coriander and mango.  Dipped in the hot sauce and the sour cream served on the side, it made for a light and fresh snack.
I have to say that I was satisfied with our meal, even with the banishment of the Tandoori chicken wings.  But I have heard a lot of bad things about the service there, and even though I'd never witnessed anything myself, I figured I should mention it, and web reviews here seems to confirm what I heard.  But again, I never had any problems.
. 
Just back from my sports road trip, I thought I needed a little more sports. And I really didn't feel like cooking after such a long drive.  So we settled for
La Cage aux Sports
in Hull.
La Cage aux Sports was founded in 1984. Regrouping 48 restaurants throughout Québec, La Cage is now well established in the Quebec Sports/Food scene.  Although the newer Cage seem to all be built on the same model, each Cage has a unique interior and all of them have an atmosphere focused on sports.
I don't mind the Cage in Hull.  The bar in the middle is quite big, with lots of TV screens all around. There are plenty of booths available in the restaurant area, lots of TVs too but sometimes they are hard to see.  It can get very packed in there for big games, especially when the Habs or the Sens are playing.  It is a little more quiet for other sports, usually.
Tonight, they were showing on their main system the Habs playing the Hurricanes.  Go Canes go, I said.
La Cage's menu is quite diverse.  Their wings are famous (Buffalo or 9-1-1, they are small but tasty – and they are only $0.49 each on Thursdays afer 4pm), but you can also get chicken, ribs, steaks, sandwiches and hamburgers.
But today, we took advantage of their "Tuesday Stars". Starting at 11 am, all pizzas are $9.99, and so are pitchers of Molson Export.  So pizza it is.
I picked the Grilled Chicken Pizza.  It is basically a breast (half a breast?) cut in strips, deployed on the pie, with red pepper strips in between each piece of bird.  That's it.  The pizza is of a nice size, for a personnal portion.  Not too big, yet filling.  The crust is well done, quite thick but light at the same time.  The sauce is a tad sweet for my taste – but I suppose it is hard to go too spicy with chicken and red peppers.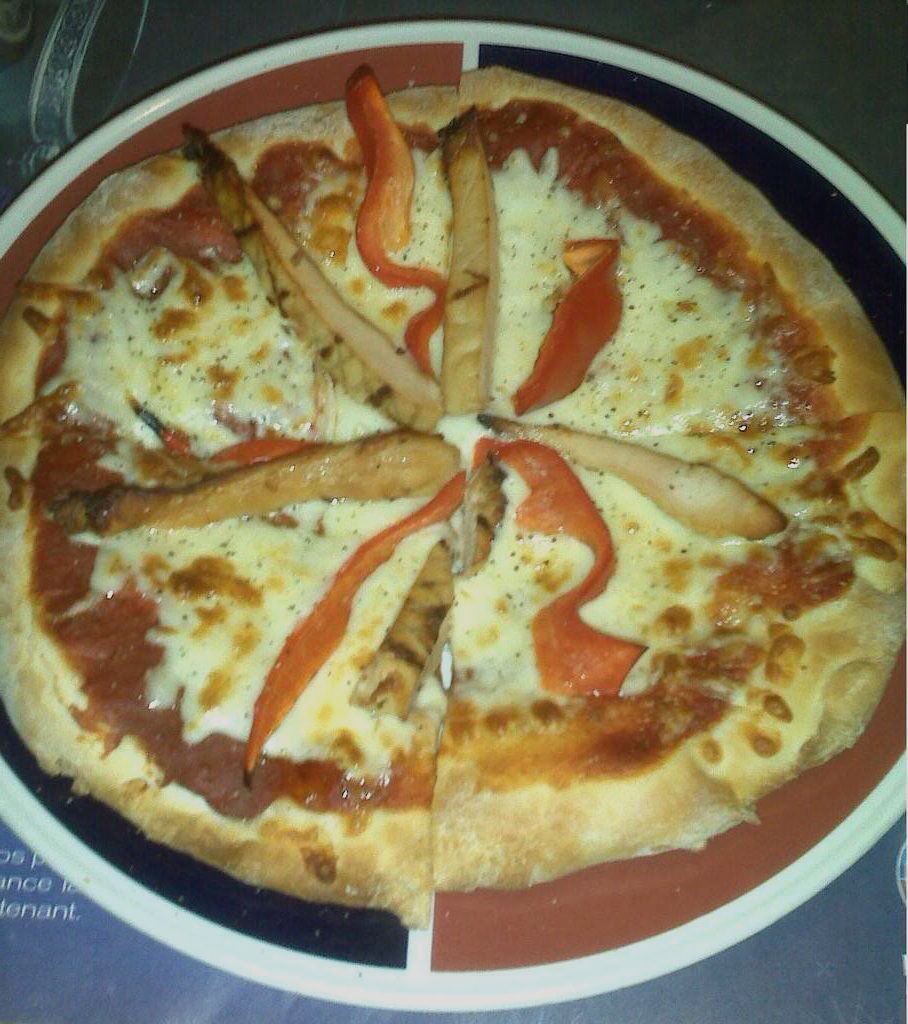 Mel went for the classic all-dressed.  Pepperoni, mushrooms, green peppers AND red peppers too.  Nice touch. Again, a nice pizza. Probably better balanced than the one I had, the sauce working well the toppings.  The mushrooms were nicely dried out, not squishy at all, and it is very pleasant to look at.
We left with a $40 bill.  They gave me an extra $3 off because I showed my CAA card.  Thank you, CAA!
Even better, the Hurricanes won!!
.
We finally made it to the ultimate goal of our journey…  Monday Night Football in Buffalo.
Burning grocery carts with anything you can find in the parking lot.  Could there be anything better?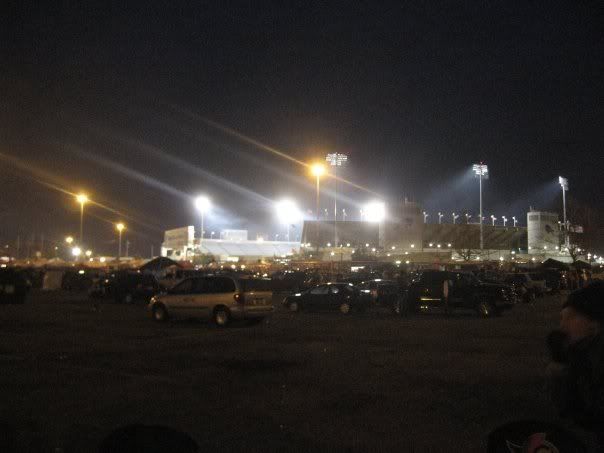 There are now 6 of us, all checked in at our headquarters, the
Buffalo Airport Red Roof Inn
.  A magnificent facility if there was ever one, we left as soon as everyone was ready because we didn't want to indulge too much.
First stop:  supplies.  Jerry and I had stopped earlier at a scary cornerstore near Main Street, where I got three XL white T-shirts for 9.99$ and, most importantly, a case of beer.  18 cans of
Coors
, the Banquet Beer.  A Legend since 1873.  12$.  Fan-tas-tic.  Although
this guy
doesn't seem to agree.
Now, in Canada, Coors is truly a legend as nobody has actually seen one lately.  Contrary to its Light cousin, the Coors never took off in Canada.
I remember when they were both first introduced – they were, in Quebec anyway, the first long neck bottles of beer on the market.  Which was really annoying for the little guy that I was, working in a "dépanneur," because the single bottle beer racks were a tad too short for these long necks.  So it meant that we had to insert them slowly one-by-one in the rack, instead of sliding them fast to fill up the row.
At any rate, Coors is a very ordinary beer. Some call it "Rocky Mountain Spring Water", and if that were true I'd move there, because it is very tasty water.  But it ain't a very tasty beer.
It does have more taste than the Light however, which is to show what advertising can do to a beer brand.
The Coors is the kind of beer that can be drank all night long – especially if the goal is to not remember it.
I can't comment on the appearance, as tailgating means drinking from the can, but I can tell you that you can almost taste corn in there.  Nothing memorable, though.
As for the food available for our tailgating, we did great.  We went to a Tops grocery store to pick things up – and on a top shelf, I spotted a fantastic unfolding grill for 5 dollars! We got that, some charcoal, some sausages, some buns, a couple bags of chips and some condiments, more beers, and off we went to the Ralph Wilson Stadium.What a superb view we had from our parking lot spot!  After zigzagging through the broken bottles, we establish our camp and proceeded to crack a few beers.
We then proceeded to set up the grill.  One might think that a 5$ grill would be easy to assemble, but the geniuses that were with me took their time to figure it out, and even tried to take some shortcuts by, for instance, not screwing the legs on.  A breeze brought everything down, of course.But they figured it out eventually.  Then, we proceeded to light it up.  Not as easy of a task as some might think, as Ian and Glen almost set a car on fire in the process. It was a windy day, however, so let's give them the benefit of the doubt.  But soon, Matty was working the grill.  The nice smell of the meat in a tube started to spread around our little camp, slowly taking over the underlying odour of cold urine, spilled beer and other human-produced fragrance.
I have got to say that our sausages were pretty good.  Juicy, tender, well cooked, they warmed our soul and gave us the necessary courage to get inside the stadium.
We, of course, were already very well liked, thanks to the chicken wing hat I had
previously purchased
.  It is a Buffalo classic, and when you wear it, they instantly recognize you as one of them.A Bills' game is always an excellent adventure. One never knows how many fans will get arrested or thrown out of the stadium.  The fans can get very rowdy in Buffalo, and on Monday Night, they've been entertaining themselves all day and are still going strong.
Some games, the action is in the stands, not in the stadium.  The yellow coats of the security crew are running around the stadium faster than the Bills receivers.  But this year, it was cold, and the fans were calmer then usual.  We, however, miraculously avoided the snow the poured all around the area all day, but the skies over the Ralph Wilson Stadium held on.
Buffalo QB Trent Edwards poured even more cold water on the fans as he threw three interceptions in the first quarter.
Still, the fourth quarter began with a 16-13 score.
Cleveland scored a TD first, but on the following kickoff, Buffalo returned the ball for a TD.
The Browns added another field goal to give the Brown's a 26-20 lead, which was then followed by a Buffalo drive leading to a TD, 27-26 for the Bills.
The next Cleveland drive brougt them down the field to a spot that gave their kicker a chance to win the game with a 56-yard field goal. Kick is GOOD. 29-27 Browns.
The Bills didn't give up, and another drive gave the Bills kicker Ryan Lindell a chance to be the hero, from 47 yards out.  Perfect snap, perfect hold. Kick is… WIDE RIGHT, WIDE RIGHT!!! Bills lose. 29-27.
Still, a great time.  And better yet, we didn't have to go out and enjoy Buffalo's lively night life.
Also, a movie is coming out about the day, but there has been some delay. The fans are eagerly waiting.
After a pretty successful two-day stop in Pittsburgh, we had to leave the city of steel for Buffalo, an All America City.
Considering the lack of breakfasts around the hotel, we decided to hit the road and get out of town before getting breakfast.  We also knew that the weather would get nasty near the lake, so giving ourselves some extra time wasn't a bad idea at all.
A bit less then 60 minutes out of Pittsburgh, we decided it was time to stop.  Portersville was the next exit on the I-79 North, and we followed the sign for Brown's Country Kitchen.  It was a couple of miles off the highway, but it was certainly worth it.
Portersville is a very little borough of less then 300 souls.  There was nothing much there that I could see.  But Brown's Country Kitchen was open for business, and there were a few locals having breakfast when we showed up.
The two sixty-something ladies who were operating the place were in full control, in a very efficient yet friendly fashion. One of them must have been Gretchen Brown, co-owner with Harold Brown, but I didn't ask.  It didn't matter.  What mattered: the prices were cheap, but would the food be?
Not at all.  Everything was fresh, very hearty and classic American comfort food.  Jerry went for a classic breakfast, eggs & sausage.  I decided to be a tad bit more adventurous:  Steak and Eggs.  For 8$, are you kidding?  I couldn't pass on the opportunity.  I was even more adventurous when she offered me the option between a classic strip or a Country Fried Steak, and I went for that.
I never had a country fried steak before, but I figured Brown's Country Kitchen was the perfect place to try this delicacy.  A Southern US dish, country fried steak is usually made with round or flank steak, which you tenderize before dipping in a milk and egg mixture, before breading it in seasoned flour or bread crumbs.  You then fry the steak in a skillet, although it can be deep-fried.  In fact, it is often called chicken fried steak when this technique is used.
My food arrived, and it smelled fantastic.  It was greasy, but I don't think it was deep-fried.  The meat had really been tenderized, so tender in fact it almost looked like ground beef.  The breading was slightly peppery, but not too much.  My steak was served with scrambled eggs, which were respectable, and delicious home fries, fresh, chunky and crispy.  I highly recommend you
stop by
if you are in the area – much better stuff then the fast-food breakfast you can find along the Interstate.
Well-fed, we were on our way to Buffalo, an All America City.  I had one goal in mind – make it.  The weather got nasty here and there, at some point we could only see 20 meters ahead.  But we made it, although it took us longer then expected.
Next step:  lunch!
.
Buffalo is an All America City for more then one reason.  Although it is not known for its fine cuisine, Buffalo is nevertheless the epicentre of the most important sports cuisine revolution ever:  the chicken wings.
Because it is here, in 1964, in a small establishment of Main Street, Buffalo, NY, USA, that the chicken wings were born.  The blessed nativity happened at the Anchor Bar.
I've always wanted to go, but although it is on Main Street, it is still a few blocks away from downtown Buffalo.  On our annual football trip, we usually stay at the Adam's Mark, as it is walking distance from the classy night life experience one only can get in downtown Buffalo, an All America City.
Monday Night Football was changing our plans, as there was no need to enjoy said nightlife.  But it also meant we had time for an All America Lunch.  So off we went to the Anchor Bar.
If I understood the story correctly, the chicken wings were invented one Friday night in 1964, as the son of the owners, Dominic, was hanging out with a bunch of his friends at the bar.  Emptying the beer kegs, they got hungry.  Teresa Bellissimo was asked by her son to feed his friends, but it being Friday night, and it being late, and them being drunk, she didn't feel the need to feed them with fancy food.  She took the chicken wings she had reserved to make soup stock, and dunked them in a deep fryer. She then tossed them in a "secret sauce" ( A blend of cayenne pepper, vinegar, salt, garlic and margarine) and served them with a blue cheese dressing on the side to cut the heat for the sissies amongs Dominic's friends. They apparently liked the dish, ordered more beers, more wings, et voilà!  A new star was born, and the Buffalo chicken wings are now a favourite accross North America, still spreading around the world.
We arrived around 1 pm.  The parking was packed, which I assumed was pretty normal for game day.  Still, we were 7 hours away from kick-off.  The place was really busy – we lined-up in order to be part of the experience.  Ivano Toscani, the Executive Chef, was welcoming people and making sure to move people along quickly.  It took about 10 minutes before we were able to sit down in a corner table, not far from the piano.  – Yes, they have live entertainment – but not today.
Today is all about Monday Night Football.  Most of the patrons are wearing either Buffalo Bills' gear, or Cleveland Browns' apparel.  Cleveland is not that far from Buffalo, so lots of Browns' fans are in town, and lots of them are at the Anchor.
Jerry and I had a quick look at their lunch menu, but that was mostly just for show. Hell, we were here for wings, so we barely looked at the salads, soup, sandwiches, pizza and other available items to focus on the Holy Grail:  the original wings! (They also have a dinner menu, expanded to include pasta dishes and seafood.)
Anchor Bar Wings are available in five flavours:  mild, medium, hot, bar-b-que and suicide. The original version, I gather, is the medium one. We ordered 20 wings
To chase them down, I went for a pint of Genesee Cream Ale.  Funny enough, of the 29 beers available at the Anchor Bar, 1 is Irish, 1 is Dutch, 2 are Mexican, 8 are Canadian, and 17 are American.  The Genesse Cream Ale is quite clear for a Cream Ale, very pale too.  Pretty weak aroma, it is quite smooth and therefore a good beer to chase down wings.
While waiting for the wings, I went to their souvenir shop.  I bought a great chicken wing hat!!!  It would be a huge hit later, I was sure of it.  You can order a lot of the stuff on-line.
And then, the wings came.
Here they were.  The originals.  The wings to rule them all.
The smelled so good!  They looked so good! And good they were. The wings were served with plenty of celery sticks on the side (for our health – way to go Anchor Bar!) and the original blue cheese dip.  The dip wasn't bad, but I've always preferred to keep my wings un-dipped.  That's the kind of non-dipper dipper I am.
The sauce is what makes it all happen.  Because the wings themselves weren't of the best quality.  And, because of the heavy affluence I assume, they probably weren't as good as they can be.  In fact, some were a tad bit overcooked, so much so in fact that some bones would chip – I believe I did swallow a little piece.
But the sauce was divine, and it made for very tasty wings.  They were served hot, and they were clearly not microwaved as they remained hot to the last one.   I wanted to try the other sauces they had available, but that was plenty of food for now.  So I went to their store again and bought an assortment of sauces and a gallon of original sauce.
I will make another pilgrimage if I have the chance.  This place changed the world.
What's the best thing to do after a long night of hockey? Why, getting ready for a football game!  The first order of business though:  food!What will we do today? Jerry's research on the internet had led him to believe that tailgating was really the way to go, but from our home base at the Radisson, we weren't really equipped for it.  Besides, the plan was to do that in Buffalo. 
So we went out looking for breakfast. After driving around for a bit in the area around the hotel, we had to conclude that we would not find anything satisfactory – in fact, we couldn't find anything at all except for a bagel shop - so we headed for Downtown Pittsburgh for an adventure.
Not knowing where I was actually going, I ended up following the indication for the Convention Center.  I knew it wasn't far from the Strip, and figured that it was an area worth checking out anyway.  Located by the old docks, this area of Pittsburgh has definetely seen better days.  But it was our lucky day – we parked half-a-block south of Primanti Brothers'original location on 18th street.  Jerry's research has told us that Primanti Bros. was an institution in Pittsburgh, and a must-go before a Steelers' game. 
Primanti Brothers is a sandwich chain of fifteen outlets throughout the Greater Pittsburgh area, with an additional two locations in Florida. It was founded in 1934. 
We walked in.  The place is clearly a blue-collar establishment, no fanciness, with wood tables where beer is drank cold and fast while feasting on the menu posted on a giant board at the back of the restaurant.  We had a look at it after seating ourselves in a booth which had seen better days.
Jerry wanted breakfast, but we had just missed the deadline.  We would have to settle for one of their regular fixtures.  I hesitated – maybe I should go for a sandwich?  But I decided to go for an item that looked exquisite – on the wall, at least:  the Smallman Street Fries.  Fresh cut fries, chilli, cheese, bacon, sour cream.  Could this be a dream come true? Well, no.  Are you kidding?


This thing was unreal.  The fries weren't bad at all – quite crispy, although greasy.  But they serve a lot if it here, so they were fresh and nicely cooked.  The chilli was half-decent, meaty and beanie, not spicy to my liking but that is understandable.  The cheese?  Well, it was that kind of cheese sauce they seem to pour everywhere here in Pittsburgh, some kind of re-processed Cheese Whiz.

The bacon was fake bacon bits, which added an unwanted dryness to the dish.  The sour cream was helpful to make this thing more palatable, but let's just say I wouldn't recommend it. And the pool of grease at the bottom – literally, a pool - made it even more uninviting.  I wish the coke I ordered had been bigger, to help wash it down.  This poutine wannabe is light-years away from the subtle delicacy and fine balance one can find in Quebec's best poutine.
Jerry didn't fare any better, by his standards.  I didn't mind his order that much – (He couldn't bring himself to eat it all – so I had half to chase my Smallman Street Fries.)  You see, unbeknownst to Jerry, the Primanti Bros' sandwiches are famous because of how they are served.  The menu is clear, but one could easily miss a key word:  "All sandwiches are topped with french fries, cole slaw & tomatoes. Onions by request."  Topped.  Not served.  Not accompanied.  Not coming with.  No, no, no, no, no. TOPPED.
So here it is – the Black Angus Top Sirloin Steak & Cheese Sandwich:
Angus beef. Coleslaw. Fries. All stacked between two thick slices of Italian bread. Now, I wasn't as repulsed by the whole concept as Jerry was.  After all, I lived in Jonquière for three years, and in the Saguenay-Lac St-Jean region, and other areas in Quebec, it is not uncommon to serve hot dogs with fries and cabbage as garnish. 
It was, however, fairly thick. Cut in half, you could see the bed of fries which is counting for half the sandwich.  The meat wasn't bad at tall, but it was kind of drowned out under the fries and the coleslaw.  The slaw was vinegary, which does work with fries but makes the bread a little too wet for it to be eaten properly, if such a thing is possible.  Biting into it, I wished I hadn't ordered what I had.
Primanti is quite the experience. But Jerry was still hungry, and thank God we had our hockey tickets from last night, so we went ahead and enjoyed our free Big Macs after shopping for Steelers' gear. 
It was a cold and snowy day – at some point before the game, we couldn't see 10 yards in front of us.The hotel shuttle dropped us off in front of
Heinz Field
, near Gate C.  The
Steelers
were receiving the
Chargers
much later in the afternoon, but we wanted to go early to get a good feel for it all.
We were told the good bars were on the other side of the stadium, in front of Gate A so we headed over in that direction.
The Steel Nation is known to be rowdy.  Nothing compared to the Bills' fans, but still.  Today however, their ardour was slowed down by the flurries. There was also some Chargers fans around – not a whole lot, but their baby blue jerseys were clashing with the sea of yellow and black, so they were easy to spot.
We walked around the stadium for a while, immersing ourselves in the pre-game ambiance that was slowly but surely building.  But the cold was getting the better of us – we had to warm up if we wanted to last the whole game.  After all, we were 3 hours before kick-off.  So we wandered down towards the promise land of sports bars which are supposed to be nearby.
The first one we saw had a line-up.  We looked around and couldn't really see anything else.  So we did line-up, trying to make it inside the Jerome Bettis' Grille 36.  Bettis was traded from the Rams to the Steelers.  A strong running back, Bettis rushed for over 1,000 yards in each of his first six seasons in Pittsburgh.  A very popular figure, he decided to cash in by opening this "food-focused sports-themed restaurant."
We had to get in.  But the line was not moving.  I noticed they had a patio, with a nice view of the Ohio river and of Heinz Field. I also noticed that we could get on the patio directly and therefore skip the line-up.  The patio was almost empty, and there was not a lot of customers for the two Bud Girls who were trying to sell their malt beverages.  We walked on and happily ordered to cold beers to warm us up.  And after buying the beer, Jerry and I snucked inside the bar from the patio – the doors weren't locked.
The place is great.  It is huge.  They have over 50 HD TVs with 12 different satellite systems, which makes it possible for them to show up to 12 different events at the same time!  The TVs are everywhere, and they clearly identify with logos which TV will broadcast what.  So you just need to find the TV you are looking for, and no need to ask the staff to switch any TVs. Everything is pre-determined.
The place was really packed. As people were cheering for the different teams, Jerry and I enjoyed a couple of beers, and we chased them down with a couple rhum and cokes.  The bar itself is shaped like a football, and I counted 15 screens all around.
The
food menu
looked interesting – the wings smelled fantastic – but we were still recovering from Primanti's.  And a quick look at their Ultimate cheesy fries convinced us to wait for a bit.
Their beer selection is grandiose: 36 beers on tap!  Have a look at their
selection
.  Now, after having a few drinks, one needs to head over to the washroom.  And let me tell you, it was not a pleasant scene.  Frankly, I have rarely seen something so disgusting – there was literally pee everywhere.  Of course there was – people were distracted.  In front of the urinal was a two-way mirror, permitting you to watch the games as you were taking care of business.  A great concept, but when put to the test of hundreds of drunken fans lining up for too long in an overcrowded bar, it failed.
We recovered from the bathroom experience with another beer, and then we left for the stadium.
Heinz Field was open in 2001, to replace the Three Rivers Stadium. The
H.J. Heinz company
, which is from Pittsburgh, bought the naming rights, and therefore the right to have Heinz Condiment Stations throughout the stadium.  However, don't expect to see the 57 varieties on display.  Ketchup, mustard, relish, some pickled goodies, but that's it.  Now, of course, 57 has never been based in reality and always been a marketing ploy. So who cares?
Heinz is taking full advantage of its exclusive presence, and you can see the famous logo everywhere. On top of the jumbotron, two giant
Heinz ketchup
bottles are located. And when the Steelers – or the
University of Pittsburgh Panthers
I assume – are getting into the "Red Zone", the two ketchup bottles are celebrating the scoring opportunity by filling the jumbotron with virtual ketchup. Classy.
There are many more concessions at Heinz Field then at the Mellon Arena.  Obviously, they want to keep their fans fed and merry, as there are 47 concessions in total.  I got a little hungry, and althoug I was tempted to seek out the Primanti Brothers' location, I decided against it and went looking for a Pennsylvania classic: a Philly Cheesesteak.  I stopped by a "Goal Line Stand" where they were grilling peppers and onions alongside strips of steak, serving everything sizzling, transfered into a fresh bun and topped with melted white cheese.  I was not disappointed.  It was very good, and the cold actually helped to hold everything together as the cheese cooled down before I got back to my seat.  I enjoyed it with an iced cold local brew – every brew was ice cold during the game, even if they would have tried to serve it warm.  There are 11 different types of concessions at Heinz Field, but I highly recommend you follow my lead.
You can have a look
here
at what you can find, and where.  As for the game, it was quite interesting considering the weather, and it was decided on the last play, a play that ended up
costing
gamblers tons of money.  And it was, in the end, an
historic game
– the first 11-10 game in the history of the NFL.

.
Game over.  We decided to go celebrate the Steelers' victory with the locals and went looking for a place to do exactly that.
Jerome Bettis' Grille 36
was even more packed then
before
, we could  barely believe it.  But we had no interest in lining up again, so we kept going down the street towards
PNC Park
.  The Ugly was too loud, 3 Deuces uninviting.  So we walked on into Firewaters.
We weren't sure at first.  The place was kind of small, and was kind of packed. It is an odd place – they have two bars – one right at the front entrance, where 20-25 people can sit, and a second bar at the back, the door being on the side street. The two bars are kind of separated by a dining area, where about 40-50 people can eat.  We walked around for a bit, and moved towards the exit. But a representative from
Budweiser
really wanted us to stay, and he offered us two things:
1 – if we ordered their new
American Ale
, we could keep the Steelers' glass in which it was served.
2 – if we ordered their new American Ale, he would offer us the next round.
The place was packed, but hell, free beer?  I'm in.  So we parked ourselves in an area with a short wall for us to rest our beers on, and we waited for a table to free up.
Two Bud girls showed up late and blamed it on stadium trafic.  We decided to commisorate, hoping to get more freebies out of them.  And we ended up with a Steelers' Jersey beer holder.
Awesome.
So we enjoyed our American Ale while watching the Sunday Night game. The Ale is Anheuser-Bush's attempt to break into the looking-for-a-better-beer then the "King of Beer
tm"
market.
The American Ale is a light amber, thin on aroma, with some hops right in there.  It has a slight caramel finish. It is not a very complex beer, and will disapoint true amber lovers, because as its lager counterpart, the American Ale is a very smooth beer.
That is what Budweiser is all about, in fact, so I was actually pretty surprised that they went there in the first place.
Some will argue it is simply Budweiser with red dye, but that would be overly simplistic.  Worth a try, especially when you get one for free or with a free Steeler's glass!
At last we got a table.  We ordered their nachos, which came fairly quickly.  As almost everything involving cheese in Pittsburgh, it was topped with that processed cheese sauce they throw everywhere.  There could have been more, though.  It wasn't bad, but it was very late and we were really in there for the American Ale.  The place was the festival of deep fried food, and the nachos were probably one of the healthier options.
We called our shuttle from the Radisson.  It came quickly, so we chugged our third Ale and were on our way to bed, with sweat dreams of Monday Night Football…
We had selected the
Radisson Greentree
as our home base for the Pittsburgh leg of our sports trip.  The hotel is not really close to downtown, in fact you have to cross the city through the crazy interchange and bridge systems, heading towards the airport.  But to compensate, the rates are cheap, and they had a free shuttle to the hockey game and back!
After checking in, we got ready for a Hockey Night in Pittsburgh.  We got lucky and hopped on the shuttle as soon as we got back to the lobby.  Arriving at the
Mellon Arena
, we decided to find a place nearby to quench our thirst.  At the doorstep of the arena though, the view is spectacular, as the Arena is built on a hill.  We stood there and looked at the Pittsburgh landscape from our vantage point – tall beaming skyscrapers with corporate logos at the tops, but we couldn't see anything really obvious for our needs.  Bunch of hotels and their fancy bars, nothing interesting.
A group of Pittsburgh Police officers were at the corner of Washington and Center.  Strangely enough, they were all looking at their cell phones.  Apparently, they were looking for someone's number. We interrupted their important work to ask them about a good place to get a beer before the game.  A big moustache-wearing sergeant directed us, with no hesitation, to the Souper Bowl, a couple of blocks away on 5th avenue.
We walked down as people were offering… errr… asking for tickets. The Souper Bowl looked promising, too promising in fact because there was a line-up.  I'm too old for line-ups, so we kept going and fortunately rapidly found another sports place, the Café Fifth Avenue.
As expected, the place was filled with Penguins' fans, but also with Sabres' fans.  It was bright.  It was loud.  Beer was flowing.  Standing room only, but not overpacked.  We found our way to the bar, where we witnessed the waiting staff's dance.  I ordered a  Yuengling Traditional Lager. Yuengling is the oldest brewery in the United States, founded in 1829 in Pottsville, PA.  I like Yuengling, as far as cheap beer goes it is pretty tasty and different from the generic brands.You can read an opinionated review and history lesson here.
There was a lot of beer being drunk at the 5th.  Our barmaid, wearing a suggestive Jagermeister T-Shirt "Shot Happen", was very effective in feeding customers said product.  I even suggested to Jerry that we should do one.  He declined, so I ordered another Yuengling.
We had a quick look at their menu.  Everything was under 10$, but we decided against ordering any chicken wings, provolone moons, stuffed banana peppers, Fifth Avenue Pockets or other american delicacies.  See, we were still full from the pizza.  So I ordered another Yuengling.

Then, we were off to the Mellon Arena. The Mellon, formerly the Civic, was named after the Mellon Financial, following a 10 year deal  signed in 1999.  But Pens' fans are still calling it The Igloo.
The Igloo is the oldest arena in the NHL, having been completed in 1961. Funny enough, its shape has nothing to do with hockey and was meant to give better acoustics to its first occupant, the Pittsburgh Civil Light Opera.
At any rate, it is a neat arena that didn't age very well, as there are electric problems, as well as with the roof.  So there will be a new arena in Pittsburgh in 2010, and you can watch the progress of its construction live.
The Mellon Arena is old, but it is kind of cool.  There is a corridor inside dedicated to the kids and every local team, with their jersey framed and hanged on the walls.  The concourse is cramped with stands of all sorts, though, and it creates some bottlenecks.  Obviously, the original design didn't make enough room for food and beer stands, so carts are all around.
It was a very good game, Malkin played great and Crosby showed flahses of magic.  The Sabres were quick to counter-attack, but lacked the finishing touch, and seem to lose stamina in the third.  Anyway, the Penguins won 5-2 and you can read the game report here.  What I can tell you however is that in the third period, the Penguins were awarded a power play after Tallinder was caught tripping a Pens, who were incidentally wearing their old-fashionned powder blue for the first time since they switched to Pittsburgh's black and gold colours.  That power play triggered the announcement of a Big Mac Attack, a promotion where all fans can get a free Big Mac the following day at a participating McDonald's if the Penguins scores during the next two minutes.  Imagine the fans happiness when Goglioski scored to tie the game and give us a free Big Mac!  Awesome.
As every other sports' stadium, beer is quite expensive.  $7 for a can of Blue or Bud.  The concessions
are easily accessible, as the line-ups are not very long.  Maybe the Pens' fan know better. As for the food selection, quality and prices were not great. Hot dogs for $2.50, $5 for a slice of pizza from Pizza Hut, nachos, pretzels, pop corn, cotton candy. I ordered a Super dog for $4, and that was a mistake.  It looked barely bigger then a regular dog.  The sausage was not cooked evenly - not bad on the ends, but overcooked in the middle.  And it looked overcooked, too, as the sausage was almost caramelized.  All the condiments were available near the counters, including pickled jalapenos, which I freely added to my dog.  I engulfed it quickly, and chased it with a Blue. 

Apparently, the two best areas in Pittsburgh to go for food, nightlife and action are the Strip District, about a mile east of downtown, or Station Square, on the south shore across the river.  We decided to Square things properly and took the "T" to get there.  Funny thing about this light rail system: you pay when you arrive.  Not sure it is the most efficient system, but hey, the ride was fairly comfortable, even though we had to stand all the way.
We ended up at the
Bar Louie
, at the heart of Station Square.  Bar Louie is a chain with 50 locations across the United States of America and the Pittsburgh location is very nice. At the heart of Station Sqaure, under the shadow of the Fort Pitt Bridge, it is by the Monongahela river, almost at the point of convergence with  the Allegheny to form the Ohio river.  Right across is Point State Park, a strategic area during the French and Indian War which is now a National Historic Landmark.
The Station Square's Bar Louie is quite big, lots of space, a stage for bands, a dance floor.  A great place to party, I am sure.  We ordered a couple of beers.  Jerry went for a Stella Artois, which he had to return because it actually tasted like Pabst.  But our friendly waiter obliged with no arguments and brought him something less offensive. For my part, I went with a Michelob AmberBock. Pretty smooth beer, clean finish.
I really did enjoy the fact that there was lots of space in between each tables.  Nobody is squeezed against their neighours, the waiting staff are not dangerously trying to serve while avoiding chairs and flying hands.
Their menu is quite eclectic.  Items can be inspired by Tex-Mex, Cajun, Italian, Asian, American traditional or even Bavarian cuisine. Burgers, pizza, salads and sandiwiches are composing the bulk of the menus, but you can also munch on sliders, a mini-burger shapped sandwich.  We however felt the need to go for a large order of their chicken wings, for $12.99.  Flavored offered are Buffalo, BBQ, Szechwan or En Fuego.  I tried to convince Jerry to go for the Fuego variation, but he would have none of it so we settled for their BBQ wings.  They were of a good size, fairly meaty and crispy.   Their large order was generous, and the two of us struggled to finish it.  We weren't starving however, but there was over two dozen wings in the basket, and it came with sour cream.
For 4 beers and the wings, it costed us $40 before tip. I did enjoy Bar Louie.  I'd go back with no hesitation if I had a chance.
As I told you in this
post
, Jerry and I went on a
road trip to Pittsburgh
for a formidable sports week-end.
Nobody seemed in favour of us stopping at Denny's Beer Barrel Pub, so we didn't make the detour.  I still thought about it, since it would have only added an hour and 43 minutes of travel time.  But then, another 5 hours to eat the Beer Barrel Belly Buster would have been too much to make it in time for the Sabres-Penguins game at the Mellon Arena.
Instead, we stayed on the I-90, also known as the AMVETS Memorial Highway.  Part of the Dwight Eisenhower System of Interstate and Defense Highways, the I-90 is the longest Highway in the United States, almost 5000 km long from Massachussets to the State of  Washington.
We passed a bunch of service areas, and, as we got hungry, we decided to stop somewhere we would feel like home:  The Ontario Service Area.

It is a very small service area as far as they go.  A McDonald's, an Edy's, a convenience store/Deli counter, and a pizza place.
It seems that the owner of the McDonald's actually owns the rest of the place, as McDonald's products (containers, glasses) were used every other place.  In fact, the girl at the pizza counter was wearing a McDonald's uniform.
We decided to start our road trip with real american food.  We ordered a full pizza, and two Cokes from the fountain.  We went for the meat lovers, hell, why not?
The pizza was freshly made in front of  our eyes.  Not the greatest quality of toppings, but still, not frozen.  It came out 15 minutes later, nicely cooked and very filling.  The sauce was kind of sweet with a bit of basil. Meat was sausage bits, peperroni and bacon.
It was not a great pizza, but it was good enough for a road stop.
What wasn't good enough, though, was the lack of the geographical knowledge of the people working there.  One would think that employees working at a highway service area would know where they are.  Jerry was curious, he wanted to know how far from Rochester we were, and if it was behind or ahead of us.  "Ask at McDonald's", the McDonald's uniform wearing pizza-girl told him.  We glared at each other in disbelief.  After all, Rochester is a city of one million people, and although it is not New York City or even Buffalo, it is quite certainly the biggest city near the Ontario Service Area, as opposed to, hmm, I dunno, let's say West Chili, Beullah, Belcoda or  South Chili.  Off to the McDonald's he went, to come back with no better knowledge of where Rochester was.
We checked on a map, and for the record, the Ontario Service Area is three miles before the 490, which goes to Rochester. A grand total half an hour away.  They could also have pointed out that we passed the 390 14 miles ago, and it also goes to Rochester in half an hour.  How can you have a million people living 30 minutes away from where you work, on an interstate, and have no idea where it is is beyond me.
Welcome to the United States of America.