Browsing articles from "August, 2008"
My friend Scott, a Rapidz fan, invented this sauce in honour of Rapidz infielder 
Jose de los Santos
.
I don't know why exactly, but there it is.
De Los Santos Sweet and Sour Sauce
————————
Half of one large white onion, finely cut
Two cloves of garlic, diced
One cup of pureed tomatoes
Half a cup of white wine vinegar
Saute garlic and onion for two to three minutes, then add diced tomatoes, pureed tomatoes and stock.
Simmer for 40 – 50 minutes.
Blend on high for one minute.
Place back on heat and add white wine vinegar and sugar, warm for 5 minutes.
Serve with chicken or pork.
So, while I was doing a panel on CFRA, Senator John McCain
announced
that Alaska Governor Sarah Palin would be his vice presidential candidate.
Now, this could be a very smart choice for McCain and help him in his bid to resist the Obama-mania.
If McCain does indeed succeed and becomes the next President of the United States of America, what will happen when he goes to Russia?
Well, we would have the McCain-Poutine summit.
Hmmmmm…  Not sure how tasty that would be.
(Yes, I know, in english he is Putin. And he is no longer the President.  Stop being a bunch of nit pickers.)
.
I continue my review of my by-election food aventure.
Here is what my second week looked like -
Sunday, August 17 2008: Lunch:
Nothing fancy, I went to 
St-Hubert
for a chicken breast.  I love St-Hubert.  I could drink the sauce.  Eeer.  I do, most times.  The fries were quite tasty, fairly crispy, and the chicken was succulent.  Their coleslaw wasn't as vinegary as it should have been, though.  I love St-Hubert.
Dinner: I enjoyed some Jazz at Les Jardins Nelson in Montreal with my friend Marika.  We shared their breaded calamari strips, which they bake.  They were golden and crispy, nicely done. Not a greasy ball of breading, as we often see.  We followed with Pizza, Si Si Si – I picked the Gambari, she went for La Charcutière.  They were fine, but nothing exceptionnal.  Nancy Martinez was the guest star for the night, and she clearly loves singing.  Too bad the crowd was barely noticing her and her band.
Monday, August 18 2008: Breakfast: Had breakfast with Richard Marois and Jean-Claude Rocheleau, NDP candidate in Hochelaga-Maisonneuve, at Le Petit Québec.  It was huge, the scrambled eggs were not overcooked, and there was tons of meat.

Lunch: I had lunch with a prominent Montreal columnist at Les Belles Soeurs on Le Plateau. I had not been there in years. He had an omelette, but I couldn't resist going for the Belles Soeurs burger, with their excellent fries.  Although I was reasonable and had only half a serving, the other half was a salad.

Dinner: I ordered some pizza from Jacques Cartier in Longueil, a meat lovers and an all-dressed.  It was 2 for 1, so no choice.  The meat wasn't overcooked, the bacon not too salty.  Not too bad.  However, it took them over an hour to deliver.  At 10 pm on a Monday night, that is uncalled for.
Tuesday, August 19 2008: Lunch: The NDP Leader was in St-Lambert for a Transit announcement and we had a working lunch at Les Cigales with members of the Chamber of Commerce.  Their fish soup was excellent, classic.  I followed it with a very nice bavette de boeuf, I just love that french cut.  I wish the schedule hadn't been as tight in order to really enjoy the great french cuisine.

Dinner: Left over pizza.
Wednesday, August 20 2008:
Lunch: Grabbed some fruits and nuts at the campaign office.
Dinner: Went to La Piazetta in St.Lambert with a Radio-Canada reporter.  I enjoyed their cannelloni al'emiliana as an appetizer and then went for La Diabola pizza. The cannelloni were a bit flat, probably because there was so much – too much – cheese on top.  La Diabola was good, but could have been spicier.
Thursday, August 21 2008:
Lunch: A very late lunch at Le Claremont after a successfull press conference in Westmount where Jack Layton and Anne Lagacé Dowson received the support of Charles Taylor, Julius Grey and other prominents Montrealers. I picked the quesadillas, I added some hot sauce to hit.  Their salsa was home made, but too young. The mango inside the tortillas gave it a nice twist.  My co-worker went for a salad, which looked very fresh.  It is a trendy Westmount bistro with a friendly and tatooed service.
Dinner: Left over pizza. Ya, I know.

Friday, August 22 2008
Lunch: ND and I grabbed a Club Sandwich to go from St-Hubert.  Did I ever mention that I love St-Hubert?  The sandwich was succulent.  But the fries do not travel as well as the meat and were a bit soggy, which is often the case with fries when you don't eat in!
Dinner: Hot Dogs at Richard Marois' campaign office!  We had a nice bbq going, I ended up on the grill.  We served six dozen nicely grilled sausages in crispy buns.  A big hit!

Saturday, August 23 2008
Dinner: Nice view of the river and the South Shore from the Verses Sky rooftop patio in Old Montreal.  Ordered a vodka-tonic upon arrial.  There was a bunch of us, and we all enjoyed a very nice meal.  I went for the Grilled Tuna, which was a tad small but nicely cooked, and served with crispy vegetables, which were actually the same for most of the entrees folks ordered.  the atmosphere was great, the weather perfect.
Sunday, August 24 2008
Lunch: Grabbed a junior cheeseburger at Burger King. Had to get back to Ottawa and was in a bit of a rush.  No time to sit down, had it in the car.
Its hard to eat well when you work on a by-election, away from home.It's also hard to keep a blog updated.
At any rate, here is what my first week looked like -
Monday, August 11 2008: 
Lunch: I reviewed my visit at the Terrazza Trattorria & Case da Carlo here.Dinner: I wanted to get an an update on Westmount-Ville Marie, so I went with Jerry to the Bâton Rouge near the Bell Centre, in the old Moe's Deli building.  We shared a Louisiana Spinach Dip before I digged in a grilled sirloin salad.    The dip was warm and creamy and came with sides of salsa and sour cream.  There was tons of chips, tons of dip, its a good think we shared.  As for the salad, it was made of mixed greens, grilled zucchini and roasted red pepper. The 7 oz sirloin was topped with warm walnuts and very lightly-flavored blue cheese. I asked for the blue cheese dressing to be on the side in order not to ruin the salad.  It was pretty good I thought.
Tuesday, August 12 2008:
Lunch: I engulfed a Baconator at Wendy's.  Too dry.  It needs some bbq sauce to round it up.
Six strips of bacon, though.  Remarkable.
Dinner: I grabbed a few beers with a lightning strike survivor at L'Île Noire, then we went to Les Trois Brasseurs on St-Denis for some choucroute.  The sauerkraut at Les Trois Brasseurs is not anything special, but it is usually alright, and can feed an army.  I had the Royale, which included a frankfurter, ham and some pork shank.  The ham was ordinary, the frankfurter much better, and the pork shank very tasty – although you have to be careful not to eat all the fat or skin.   Les went for the 3 Brasseurs one, below, which included a frankfurter, grilled ham, a smoked sausage and potatoes.  He could barely finish it, which is rare for him, he said.  They served their own beer too, which had to the whole choucroute experience.
Wednesday, August 13 2008:
Lunch: I went to the Suite 701 for a chat with a columnist.  We shared some crab cakes, which were smallish but lightly and nicely oven-fried.  We then both went for the Lobster Club, which was interesting as it came on a flavourful bread.  The side sald was fresh and crispy.
Dinner: I crossed the Champlain bridge to Verdun to meet a friend at le Garage Café in Verdun.  I had the turbo burger while she enjoyed the semi-automatic. My burger was made of lamb, nicely cooked, with a tasty mix of very nicely melted cheese, ementhal and gruyere.  The french fries were also quite tasty, and there was soooooooooooo much.
Thursday, August 14 2008:
Lunch: I forced the local campaign team to go to La Brasserie Renaud.  More about it here.
Dinner: We went for a few beers at Le St-Ciboire, but the food came from The House of Reggae next door.

Friday, August 15 2008
Lunch: We went back to see Manon at La Brasserie Renaud.  Why not?
Dinner: Had a very late dinner at Fresco before going to see Star Wars.  We actually went there because Dominic and I wanted to grad dinner before the 11:30pm showing of The Clone Wars at the Mega-Plex Lacordaire 16.  We looked around, but there wasn't much else that was grabbing our attention.  We were surprised by the quality of the offerings, and we both went for the Lobster Linguine, which was served with half a lobster, mussels, shrimps and scallops in a crushed tomato sauce.  Quite tasty, although the lobsters were a tad bit overcooked.  As an appetizers, I picked the smoked salmon, which was very nice and well accompanied, while Dom selected the snails, served gratted with lots of butter and garlic.

Saturday, August 16 2008
Lunch: I grabbed a sandwich at Cavallaro Westmount. The place is a neat little Italian grocery/deli/bakery place, and I got Genoa Salami sandwich with an extra grilled pepper to give it a bit of a zip.  They made it fresh before my eyes, asking what I wanted on it along the way.  I enjoyed it with a can of Brio Chinotto.
Dinner: I went with Anne-Marie to L'Académie as everyone else had gone AWOL that evening. As she filled me in on the action in Westmount, we both decided to go for la table d'hôte of the evening. The vegetable cream they served first wasn't really inspired, but wasn't despicable.  I went for the Lamb chops, served with a rosemary sauce and it was pretty good.  The meat wasn't of the best quality I had ever seen, but it was cooked perfectly and very tasty.  AM went for a steak, which she ordered blue.  Well, it was blue, but it was also cold, which is a sign that they keep the meat in the fridge (freezer?) too long before cooking it, or that the fridge is too cold.  Too bad
I have been dispatched on the South Shore of Montreal to give a hand to NDP candidate Richard Marois in St-Lambert, and also NDP candidate Anne Lagacé Dowson in Westmount-Ville Marie.
There is nothing like figthing the Forces of Evil in a by-election. So I'm told anyway.
And of course, you are then forced to eat out, or order in.  At any rate, not much time (or available equipment) for cooking.
Might as well make the most of it. So I forced a few key members of the campaign team to get out of the office for my first day in the area, so I could get a feel for the riding and check out the competitiona little.
The four of us ended up in a lovely Italian establishment in the heart of Old St-Lambert, Trattoria La Terrazza Casa da Carlo.
It was a very nice day, so we decided to eat at the nice terrazza.  Mind you, it is equipped with heaters, so that might not have mattered. It was also very quiet – only another table was occupied, but we thought that it was because it was Monday and a bit early for lunch.  But it basicaly remained very quiet all the way through, which made for great service from out two italian waiters.
Three of us decided to go for a table d'hôte – and we chose the meat ravioli with black olives and capres. Patrick decided to be disting that day, and opted for the lasagna.
Nice bread rolls were served while we were waiting for our appetizers.  Nicely warm, with a few different variety, they went quickly.  We also enjoyed a fresh Birra Moretti, - which is now apparently owned by Heineken - a light and bubbly italian beer, with a light hoppy taste, with some malt in there too. It also has a very nice aroma and is a very refreshing beer, and usually works well with italian food – especially if you go with spicy tomato-based dishes, not so much with creamed-based ones.
ND and Pierre went for the italian salad, I chose the zuppa.  It was a cream of carrots, which was not bad but not really surprising or creative.
Our ravioli came: a generous portion of meat stuffed ravioli, topped with a generous arrabiata-type sauce, enhanced with black olives and capres.  Our waiter offered some fresh parmesan and generously sprinkled my dish, a little too much even though I asked him to stop. "That is the way to eat the pasta," he said.  Fair enough. The ravioli were well cooked, tender and meaty enough to give the dish some depth – which was needed. The saltiness from the olives and capres was not out of control, but borderline.  If the ravioli had been weak in flavour, it would have crossed the line.  Which means that either the chef knows what he is doing, or that he was lucky.  Somehow, I don't think it was luck.
We ended the meal with a tiramisu, a fairly solid one too.  A nice discovery on the South Shore – and more people should enjoy it at lunch time – I can tell you that much.
Is there anything like a nice cold treat during a hot summer day?
After a long road trip back from Marmora, Melissa forced me to stop at the Dairy Queen in Carleton Place.  I hadn't been to
Dairy Queen
in a few years.  It seems that as I grow older, my sweet tooth is abandonning me. 
At any rate, I obliged and decided to plunge for an interesting treat if I was to indulge. 
Melissa decided to go for a classic DQ Sundae.
Topped with hot fudge.

But I figured that The Waffle couldn't do otherwise but order a Fudge Brownie Temptation Waffle Bowl Sundae.
That's right. 
A delicious combination of vanilla soft ice cream serve nestled in a freshly baked chocolate-enrobed waffle bowl covered with brownie bits and topped with hot fudge.
Well, so they say.   The vanilla soft serve is not bad, but I found it a tad bit too hard.  The mix is probably simply too cold, either because of the machine setting or because of the blasting AC in the restaurant.  At any rate, its not ice cream. It is actually milkfat and nonfat milk, sugar, corn syrup, whey, mono and diglycerides, artificial flavor, guar gum, polysorbate 80, carrageenan, and vitamin A palmitate.  All mixed together for our pleasure.


The freshly baked chocolate-enrobed waffle bowl didn't taste that fresh.  Maybe it was baked in the morning.  Maybe it was baked two days earlier.  It was a little thick, not as crispy as I was hoping – almost chewy in fact.  And it certainly wasn't of a nice golden colour you would expect from a waffle bowl.  The chocolate dip was fairly generous but it seemed to me that there was someting missing in the waffle-chocolate combination.  The balance wasn't there, the flavours weren't quite what they should have been. 
The brownie bits were surprinsinlgy fresh, and they had been generous in sprinkling my sundae with them.  The highlight of this treat, for sure.  There could have been more hot fudge, though, and the fudge could have been hotter.  Basically, they fudged on the hot fudge.
And the nice little fluffy whipped cream balls you see in the ad?  Not in that waffle bowl, that's for sure.
On the other side of the table, Melissa didn't complain about her own treat, and left none for me.
Good thing too, as my monster added 900 calories to my day intake.  Not so good.  Well, actually,  I didn't finished the waffle bowl.  It was just a little too off  for me to actually enjoy all of it.
And I couldn't help to wonder what would happen to the sale of the
Fudge Brownie Temptation Waffle Bowl Sundae
if they were using my sundae in their ad….
What do you think?
.

I discovered Wild Wing the weekend after The Ottawa Citizen's Rod Eade published an article about the new Canadian specialized restaurant chain.
I have got to admit that I was really really (really!) excited about this place and I simply could not wait to go. So I went.
Imagine, 101 kinds of wings!!! I have got to have them all!!!!
I'll report back, but meanwhile, you can have a look at my Top 20 Wild Wing Countdown.
Wild Wing claims to be the fastest growing family restaurant franchise in Ontario. It was founded in 1999 in Sunderland (although their headquarters are in Keswick) and there are 36 different locations across Ontario, with 31 more opening soon, all in Ontario. And for the small sum of $440 000, you too be a member of the Wild Wing familly and own your very own Wild Wing restaurant! If you can't, or won't, then you do like me and you enjoy their products!
The focus of the menu at Wild Wing is of course the 101 types of wings.
You can get 10 of one flavour for $8.98 ($0.90 each).
Or 20 for $17.36 ($0.87) or 30 for $24.98 ($0.83).
You can start mixing two flavours with 40 for $34.25 ($0.86), three flavours with 50 for $41.95 ($0.84). four flavours with 100 for $75.15 ($0.75), eight flavours with 200 for $142.80 ($0.71), sixteen flavours with 400 for $276.95 ($0.69).
If you want to try a couple of flavour but don't want to order that many, go for their Wing Sampler Platter, five flavours in groups of five (Thaĩ, Honey Garlic, The Good The Bad The Ugly, American and Mesquite) for $21.95 ($0.88 each – not bad).
But if you are really hungry, you'll go for their best deal:
The Hillbilly Deluxe, forty flavours with a 1000 (!!!) wings for a mere $629.95, or $0.63 per wing!
Now that's a Sweeeeeeeeeeet deal!

You can dine in or take them to go. (If you do get the special – let me know. I can help.)
But if you want to try all of their 101 flavours at once, you would then get 2425 wings for $1813.80! ($0.75 a wing)
A good thing about the menu at Wild Wing is that beside their specialty, there are a other things that can be found if you want to swing a non-winger in the place. They have a variety of deep-fried things such as poppers, chicken tenders, crab nuggets, calamari, onion rings and fries – they offer McCain's products. They even offer poutine-like creations. For a healthier fare – there is a couple of soups, salads (surprise: big AND fresh) and wraps available as well.
But let's talk about the actual product – the chicken wings.
I love chicken wings. I've tried them at many places. They come in many sizes and can be done many different ways. I love to make my own as well. I actually recently won a cook-off in Mitchell, ON, with a Red Hot Dry Rubbed wing which captured the blue ribbon. (Of course, I should point out there was only one other contestant – but I crushed him!)
This is why I was so excited about Wild Wing in the first place, and why I have been going back. They specialized in wings, and they don't mess around with their stuff. For instance, Wild Wing gets its chicken fresh from Canada's Maple Leafs packers. Never frozen, it makes the wings very juicy, even after the double deep-frying routine they go through to make them nice and crispy. So far, I have been please every time I went to Wild Wing. But you can also read reviews from this guy or from the the Lord of the Wings.
WW's wings are usually fairly large (they'll add more if they feel you're getting shortchanged by smaller birds) and they are served hot and nicely mixed with the sauce of your choice. They sometimes come with too much sauce though, especially when they are very busy. The heat level displayed in the menu is not aways accurate. The number of flames doesn't always turn out in a very flamy flavour. I supposed they can be seen as suchare in comparison to their other wings, but still, 6 flames should be freakin' hot.
The good thing is that you can still adjust the flavour to your likeing with an assortment of sauces available on the table. Lime Ricky and Arizona Heat are the one most often displayed. Some of them are quite hot, so hot in fact that the french translation has melted weirdly along the way. .. (Sauce chaud. Ingrédients: le juice de limett du concentré, espices. Ce produit peut être trop piquant pour quelque. *Sigh*) I still bought the Lime Ricky, for its zesty lime taste which adds a good bite in a hot sauce mix).
Once you have eaten your wing, you can throw your bones in a nice big metal bucket! It can quick become a fun (but messy) contest. No problems, big rolls of paper towels are on deck, as well as wet naps. You are fully equipped to dig in your basket of winged wonders with no fear of sticky fingers hangover.
In my last visit, on Civic Holiday, I dragged a bunch of friends along for a pre-Rapidz-game-snack. Folks were quite impressed and I'm sure it'll be easier to bring them next time. Especially since they got to eat your veggies anyway, carrots and celeri sticks always on the side.
Melissa always gets the Spaghetti Western. She just loves the stuff. It is basically a regular medium wing, topped with italian herbs and parmesan. And, somehow, it does taste like a good old fashionned spaghetti.
The mix of herbs really does work well with the parmesan, as long as they don't overdo it like they did for Laura's – they apparently sprinkled for a double order to make up for the fact they had forgotten half the chicken. This wing alone convinced me that there would be more gems hidden in the list of 101.
Lindsay felt chippy, so she went with one their selection who are supposed to taste just like chips. Their chippy selection also features Ketchup and Dill Pickle. Lindsay went for Sour Cream and Onion, and it did taste exaclty like chips.
Like an old bag of Maple Leafs' chips, actually, as far as the flavour goes: very weak. No, they didn't taste like potatoes, more like plain fried chicken. Which is really too bad because the concept is interesting. But they'll need to review their mix of spices for this one.
Jerry went for the Some Beach kind, a strange combination of Medium with Renée's Caeser, Parmesan and Buttermilk Dill. Obviously, it came in this very not pleasant looking sauce, a mix of glowing orange and ghostly white.
I tried one, and it was not something I enjoyed. Garlic amateurs will like it, probably, but I have got to say that the texture was too gooey for my taste. The Renée's flavour comes across very strongly and there was way too much stuff hidding in there.
Théo's pick was more like it. The Farmer's Daughter, a nice mix of bbq sauce and mediaum heat with jerk, which doesn't make its presence felt too strongly. It is kind of subdued and it works very nicely.
I've got to admit that I do like jerk but I understand that it is an acquired taste. This mix could be a nice introduction for those who are not familiar with the taste or for those who rejected it in the past. But, above all, this falvour got Théo hooked on Wild Wing.
I choose to go with a stronger combo of jerk and spicy mustard, dubbed the Island Girl. Not, this thing smelt very strongly – much stronger then it actually tasted.
That was fine, really, as the allspice came in really roundly and was well completed by the spicy mustard. It had a very nice heat to it, which helped me gulped the ice-cold Rickard's Red that I ordered with it. But I should have ordered a blond, really, as the bitterness of the red didn't go all that well with the heat.
One thing is certain – I'll be back to this place. Although I might have to check out other locations – but it looks like the corporate image is fairly similar and well supervised by the big cheese at Wild Wing Restaurants.
.
After too many days of eating civilized food at the cottage, I was in dire need of something old fashioned.  I convinced my fellow cottagers to stop at the Dixie Lee in Barry's Bay for some good old fashioned fried chicken.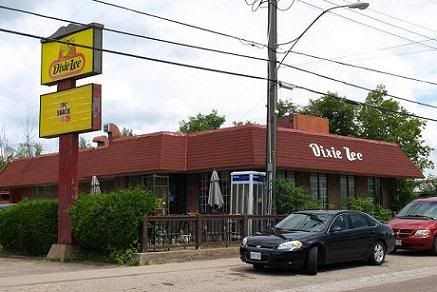 Boasting to have the "best chicken in town", what else could we do in this town of 1100 souls of the Madwaska Valley?  You could support the establishment of the Janusz Żurakowski's Museum, but that we would still leave you with an empty stomach.  So Dixie Lee it had to be.  And I didn't have, in all fairness, much convincing to do.The first Dixie Lee opened in Belleville in 1964 and is the original of a chain now counting over 80 restaurants in Canada, the United States, Dubaï and Ukraine.  The international headquarters are now in Napanee, Ontario.  Really.
The Dixie Lee in Barry's Bay is obviously catering to cottage country folks and is not the most attractive establishment, even by the chain's standard. 
You order your food at a counter and then find a table, hoping that it was cleaned properly.  Which was not the case for the bathrooms.  Anyway.Dixie Lee offers a southern-style fried chicken, but for the non-chicken eaters, fish and chips are also highly promoted.  In fact, the Dixie Lee logo is a waltzing fish and chicken couple. Cute.
Starving, I was, so I ordered a 4 piece meal, which included 2 pieces of white meat; 2 more of brown; fries and a small cup of macaroni salad.  To complete my meal, I added a medium serving of gravy and a coke.  All that for under $10.00.
I have to admit that the chicken was fairly well done as far as fast food fried chicken goes.  The pieces were smallish, but niceley breaded and golden crisp.  It could have been a tad bit crispier, but then it might have ended up a lot more greasier, which it probably didn't need to be.    The chicken wasn't dry at all, and dipped in the gravy, the mix of spices worked very well.  Talking of gravy, it was actually quite tasty at first, not overly salty and not too thick.  But it was in the end kind of boring, probably trying to please everyone by keeping it fairly unadventurous.
As for the fries, they were half-decent, but I certainly wouldn't try one of their poutines.  The macaroni salad was a little too creamy, as it usually is, but tasted fresh and was a nice side-dish to accompany my fried chicken.
A word about the fish, which I didn't try but could observe quite closely:  Calinda had a small piece of overdone, unkown fish filet.  When a place boast about having the best chicken in town, do not order the fish.  Lesson learned.
If you are allergic to MSG, be aware that their chicken may contain traces of it.  They claim they are working on getting rid of it, but who knows if that will actually happen.I left frankly quite happy about this injection of tasty nutrients.  Perhaps I should try to open my own franchise, which I could do for as low as $150 000…
Before leaving Barry's Bay, I did stopped at the Żurakowski memorial, which was opened in honor of this world-famous test pilot. A sized-down model of the Avro Arrow and a statue of the WWII veteran are there, waiting for the actual Museum to be built.
.