Browsing articles from "July, 2008"
The Glen House Resort
is the Inn complex a bad drive away from Smuggler's Glen's first hole.   Or in my case, hole #3, #5, #6, #8, #11, #12, #14 and #15. It is set right on the riverfront, near Gananoque, and is offering a beautiful and peaceful setting for the guests.
We stopped there before the final and decisive round, with me trailing badly in the 6th position.
The deluxe breakfast consist of 6 stations:
A juice station, with nondescript apple and orange juice.
A continental station, include commercial cereals, yogurt, a fresh fruit salad consisting mostly of melons, and muffins.
A toast station, where you can toast your own bread or english muffin to your taste.
A waffle station, where Wendy was making fresh waffles on order, and invited patrons to top them with a choice of fresh blueberries, strawberries, bananas, whipped cream or maple syrup.
An egg station, where Sandy was making eggs to the patrons liking.  Most folks would go for the omelette, choosing their own fixtures by filing a little cup of green and red peppers, onions, mushrooms and ham.  These items are then fried before the two eggs (or three if you want to annoy the other patrons and make them wait a little more) are added and cooked to perfection, with a lot of cheese added and melted in the flipped-then-folded omelette.
A side station, where juicy breakfast pork sausages, crispy but very salty bacon, and big home fries, golden nicely but a little heavy on the garlic for morning potatoes.
It was the perfect breakfast, hearty and filing, to set you up for a great round of golf.  If you can golf, that is.  Which I obviously can't since I ended up 7th out of 8.
There is a castle in Alexandria Bay. Cavallario's is an Italian Steak and Seafood House located on Church street in A-Bay.  An institution near the waterfront, it caters mostly to tourists in the Summer season.  Cavallario's facade is made to ressemble a castle and the walls inside are covered with items inspired by the Medieval era.  Especially Medieval is one of Don Cherry's plaid jacket hanging near the entrance.
Having experienced one of the best Bloody Caesar at the Thousand Islands Country Club (extra horseradish, a bit pricy at 7.00$), most of us decided to see if it was an A-Bay area specialty.  Although decent, it was not quite as tasty as it was at the golf club, but it was also half the price.  (Talking of gold, our round today was postponed and then definitely cancelled after 12 holes for cause of thunderstorm accompanied by lightning that fell too close for comfort.)
Cavallario's menu is quite diversified, which makes it tricky to figure out what is actually worth paying for and what is there just to make sure everybody finds something to order.
I didn't feel really hungry, so I decided to go for a lighter fare tonight.  Especially since they kept bringing more of their delicious bread, a softy warm loaf covered with garlic butter.
I started with their BBQ Shrimp, stuffed with horseradish and wrapped in bacon, and served with a tangy bbq sauce with a very good kick.  Unfortunately, only four shrimp were on my plate, fairly big ones but still, you expect a couple more for 8.00$. James also went for shrimp as an appetizer, choosing the Shrimp Cocktail Supreme.  Again, four shrimp only, so I guess the supreme would be the price.  Brian decided to go for the Fried Calamari, a good pick once again this year as they were lightly battered and perfectly fried, and there was more then four – (no worries, I didn't actually count them).  A few others ordered the French Onion Soup, and I heard no complaints about the very cheesy plate they were served.
A cup of a cream of potato was included with my entree.  It was actually quite well done, not heavy at all, which is rare for a cream of potato.  There was no chunks of potatoes however, but instead nice and crunchy green beans, which gave some depth to the soup.
Where is life without love or a dinner without wine?
That is the question Cavallario's is asking on top of their wine list.  I suppose they are right, so we ordered a couple of bottles of the Cabernet Sauvignon 7 Oaks from J. Lohr's winery in California, a well balanced wine, with dark cherry flavour and underlying black currant.
As I said, I wasn't really hungry, so I ordered the baked manicotti.  Manicotti is a preshaped tubullar pasta, stuffed and baked most often with a blend of cheese.  The Manicotti I got where no longer tubular – they looked like crepes.  That is because the blend of cheese inside (ricotta and parmesan) was too soft for the heavy mozzarella they topped it on.  Unfortunate.  The pasta was served with a nice and rich marinara sauce,  and the blend of herbs and cheese inside the manicotti was very good.  The mozzarella however was a bit chewy, and could have been cut with something lighter.
In a previous trip, I had the Diablo Chicken, a spicy breast served on penne pasta and topped with hot peppers.  It was quite good last year, but Mike told me that it wasn't as spicy this year, although still good.
Norm had the Roast Rack of Lamb.  The chops were juicy and well marinated with herbs.  And with eight bones, they were a good deal at 26.00$.  They came with an industrial mint jelly, uninspiring and unworthy of the meat.
As for Kenny, I could have sworn he had actually ordered half a cow when his King Cut of Roast Prime Rib arrived. Although it was pegged at somewhere around 16 oz by our very professional server – who sounded like Reese Witherspoon at times – there is no way that beast could have been less then 20 oz.  Cavallario's is roasting their beef piece every day, and consumers are warned that it is available only until it last as it is the house specialty.  The meat was very tender and juicy, despite the thickness of the cut.  The horseradish that came with it was unfortunately too mild and almost watery.
Everybody was full at the end of this copious meal, and once again Cavallario's is showing why it's been around for so long. Attentive and fast service (except perhaps when ordering bar items – which we of course barely did…) made this a very enjoyable meal.
We all skipped dessert.
After a night of enjoying Alexandria Bay's lively nightlife, our eightsome was in need of a greasy breakfast before hitting the alleys of the Thousand Islands Country Club. And we certainly could not find a greasy spoon quite like Beefer's.
A breakfast buffet family restaurant, it is located on the State Route 12 just on the way out of Alexandria Bay, Beefer's is open six days a week until at least 11h30 or until later if they are busy.  It is closed on Tuesdays, for some strange reason.
And, what do you know, the original "Beefer's" is back, as Bobby Williams decided that the breakfast business in Alexandria Bay was too good to stay out of any longer.  He apparently "renovated everything and built a new state-of-the-art buffet area that is designed to impress."  Well, some might be easily impressed, so good job Bobby W. Perhaps you could spend a little more time upgrading the bathrooms, though.  Just a thought.
The buffet is quite diversified for a breakfast-only place, but it certainly doesn't have the quality you can find in upper scale hotels. It consisted of scrambled eggs – with or without onions and peppers, home fries - with or without onions and peppers, hashbrowns, pancakes – regular or blueberries, French toasts, pastries, muffins, a toast station, english muffins,  biscuits, fresh fruits, bacon, ham, corn beef hash,  sausages, sausage gravy. Yes, sausage gravy.
I don't know about you, but that item,  I didn't even go near it.  I was actually afraid something would jump out of the grey slime and grab me. Oh, and there was a chocolate fondue fountain too!
For all-you-can-eat, you pay 9.99$, plus an extra 2.00$ for a bottomless drink.  I don't drink coffee, so I ordered a Sierra Mist, Pepsi's response to Sprite and 7 Up.  I have to admit it is a very good lemon-lime soft drink, quite refreshing and not too sweet, perfect to balance the fat I was about to consume.
I choose both my home fries and my scrambled eggs with peppers and onions.  The eggs were not bad, considering the mass production, and the veggies added a nice twist to the eggs.  It didn't worked as well for the home fries, which were way too soft and way to soggy to be enjoyable.  Some of them were even burned, but yet not crunchy.  How that can happen is beyond me.
The corn beef hash were also soggy, but in that case it kind of worked – the moisture coming from the corn beef fat and not exclusively from steam.  The bacon was crisp and not overcooked, and was the highlight of my meal.  Not too salty either.  The sausages were small and a little dry by moment.  Not exquisite, not juicy enough, but nevertheless edible.  The ham was overcooked and chewy because of it.
I cleaned my palate with a serving of strawberries, bananas and pineapple.  No chocolate, I abstained on that one, so I can't really tell you about it. But it was a very popular items with the kids, I can tell you that much. And, in the end, I survived Beefer's Gorilla Buffet.  And I got the t-shirt to prove it.

.
The Eh! Bay Invitational Golf Tournament is in its 4th edition and I was invited back for a second year.  Organized by the Wall family, it is basically a weekend of golf, laughter and all-around fun in the Thousand Islands.  Only two foursomes are part of it, and we played Smuggler's Glen on Friday, Thousand Islands Country Club on Saturday, back to Smuggler's Glen on Sunday.
After a round of not so memorable golf at Smuggler's Glen (in my case anyway), we were off to the United States of America.
Our first meal was also not so memorable – dinner at the Dockside Pub in Alexandria Bay.
The Dockside Pub is a very small establishment on Market Street in A-Bay.  It is decorated with sports memorabilia and mostly celebrating the exploits (!) of Syracuse's teams.  It is a very casual sports bar, with friendly service but perhaps a little too familiar.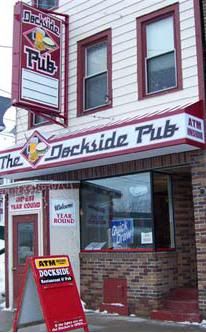 As it is a pub, I decided to opt for an 1812 as a refreshment.  The War of 1812 amber ale is the flagship beer of Sackets Harbor Brewing Company, a small microbrewery based in the state of New York.  Sackets Harbor was attacked twice by British and Canadian forces during the war of 1812, but they resisted.  I suppose they decided to name a beer after the war, disregarding the fact that they lost it in the end.  At any rate, the 1812 is a nutty amber ale, with a discreet but present bitter finish.  Not a lot of aroma, not very complex, so I figured it would work with whatever I'd ordered.
For my meal, I had the steak and blue special – a thick strip loin served on bread and topped with blue cheese. I suppose it's a variation of the famous philly cheese steak.  But first, I had a cup of chowder as an appetizer – a sad, thin, kind-of-creamy concoction with a grand total of two clams in it.   Others around me were less lucky – no clams at all. Some got potatoes though. Lucky them.
As for the main course, my steak was served with french fries, which were eaten with more or less satisfaction, and a side of vegetable macedonia likely directly taken from a can.  The meat was tender, surprisingly, and a nice medium rare. The cut was a fair size as well – quite reasonable for the 13$ they were asking for it.  But the bread was not needed, and the blue cheese was not very blue and uninspiring. So uninspiring in fact that half way through it, I jumped on the bottle of A1 sauce that one of my fellow golfer ordered to accompany his own mean.
I pledged not to go back there again – but, in all fairness, some of our eightsome ordered the fish special, a big halibut filet, which was lightly breaded and apparently very good.  It did came with the same canned veggies, though.
At any rate, I really pledged not to go back there next year.
Hopefully there is something better around the Ship Motel in Alexandria Bay, NY.
In 1995, in an old Red Lobster that went under, opened an old-style, old-fashionned deli-bar.
La Station became an institution in Hull, specializing in smoked meat and other delicatessen delicacy. It quickly became a popular hang-out, especially for the twentysomething and thirtysomething crowd, but not exclusively.  It wasn't rare to see a 20 mins line-up at breakfast time during the week-end.  And, for the party-goers and the bar-closers crowd, the place was open 24 hours from Thursdays to Saturdays, the only restaurant doing so in Hull.  The place was also hosting different community events for charity purposes, such as "Le déjeuner du Commandant", where SQ officers served breakfast to raise money for La Fondation Québécoise du Cancer.
But it all went up in smoke on the 5th of February 2007 as a fire destroy the place.  The owners, who also own La Cage aux Sports in Hull and Georges Lounge and Grill , a trendy steakhouse in the old Au Coq building, promised to re-open quickly.  They did so in the fall, with a bigger building, a 100 more seats and a new wood oven.
Yesterday was my second visit to the new Station.  I had been disapointed by my first visit after the re-opening, but I decided to give it another try because I did enjoy the old Station very much.
So I went yesterday with my lady and another lady friend for a late night dinner.  And, again, the old Station I remember so fondly is long gone.  The ambiance used to be quite warm and friendly, with all kind of old school memorabilia, signs, posters, items of all kinds hanging around, giving it a very cool retro look and feel.  All gone. The fire is to blame of course, but the owners could have found some items to decorate.  Instead of the good old deli feel we had back then, we now walk in a cold and very noisy place without a soul.  No need to believe me – here is how our young waitress described the new place: "It's like working in a big cafeteria!" she said.  No kidding.  You are drowned by loud hip-hop music and the very high ceiling and open-space concept does carry people's conversations and kitchen noises.  And the crowd is now much younger then it used to be.  Or is it me that is getting much older?
Anyway, now about the food.  I ordered the deli club sandwich, a thick serving of their delicious smoked meat, topped with crispy bacon, cheese, tomatoes and lettuce.  It's a nice twist of an old classic, and I added some dijon mustard to complete it.  It was very filling, to say the least.  It came with french fries, the battered and breaded kind which were alright, and with a side of a very boring and watery coleslaw.
My partners in crime last night went for simpler items - neither were disapointed.  The all-dressed pizza was very tasty, with a zippy tomato sauce and fresh toppings.  Cooked in the oven wood, it had a fabulous crispiness.   The italian poutine was a very filling serving of their fries, topped with their thick and meaty spaghetti sauce and fresh cheese curds.  The sauce could have been warmer to help the melting of the cheese, but it was still very well done.
With a pitcher of beer, we chipped in about 20$ each.  Not bad, but I sorely miss the old Station.
.

Is there anything better then a hot dog and a cold beer at a ballpark?Well, yes, there is.
But nevertheless, it is pretty fantastic!!!
Yesterday, I brought a bunch of friends to a game of the Can-Am league between the Ottawa Rapidz and the Atlantic City Surf at the Rapidz Stadium on Coventry Road in Ottawa.  It was the Guns N' Hoses night – in honour of cops and firefighters, and only 1500 fans showed up – probably scared away by the afternoon shower.
The menu has quite improved since the Lynx left town for LeHigh Valley in Pennsylvania.  And the beer is cheaper, 4.50$ a glass.  The beer is even cheaper  the inning following a homerun by a Rapid - it goes half price!  In our case, oufielder Pete Pirman hit his fourth of the year in the fourth inning so we could enjoy a few cold ones for a few less dollars.  Their beer selection is not huge – your pick of Budweiser, Bud Light or Keith's – so Keith's it had to be.And to accompany your cold Keith's, nothing better than a hot dog.   The Rapidz are calling their dog the Forum Dog and you can get one for 2.50$.  A juicy, classic hot dog sausage in a toasted bun, much better then a soggy steamed bun that most sports complex serve to the fans.  Now, if only they would serve them in a paper wrap as opposed to the aluminum bag, it would be perfect. 
The aluminum does keep the food warm, but it makes the bun soggy if you keep it in too long.  So remove your treat from that bag asap, add two servings of mustard for one of ketchup, you can also add relish and raw onions if you feel like it, and PLAYBALL!!
Other popular items on their menu includes the Grand Slam Sausage, which is basically an all-dressed dog with a big european style sausage, the BBQ ribs on a bun, the All Star Burger and even the Whole Wheat Turkey Wrap if you somehow think that a ballpark is a place for eating healthy.
As for the game, the Rapidz lost 9 to 4, the Surf banging the Rapidz around for 18 hits.  It was the 41th loss of the year, and the Rapidz are on pace for a 25-win season, which would set a record of mediocrity, as the now-defunct Elmira Pioneers went 28-64 in 2005 to post the worst record in league history.
But we still had a lot of fun. I got an autograph from Noel Baca III (1-7 so far this year), we heckled a lot – including Cecil "Big Daddy" Fielder, whom, believe it or not, is now managing the Surf. Atlantic City is certainly an interesting choice for the former MLB slugger, considering his past gambling problems as reported by the Detroit News.
Among other highlights, I can point out to the ejection of the Rapidz manager Ed Nottle, who couldn't believe first base umpire Yves Lamontagne blew another call at first in the top of the fourth.  And the Surf's first base coach, Mike "Rubber Arm" Moseley, was amused enough by some of my heckles that he gave me an authentic game-used Can-Am official baseball!
Even though the Rapidz are struggling, it is still good ball and a good time for all to enjoy.
You can get tickets here.
How often do we ask each other that question when it is time to go for some food? 
No matter the occasion, we often end up at our favorite locations because we can't think of anything.
This little guide can come to the rescue.  I am a very sporadic contributor (and therefore I won't make any money if you do buy it!!) to CheapEats Ottawa, but I find it very handy as a foodie looking for new places to indulge.  
It is well organized by types of cuisine and neighbouroods, has pretty straightforward ratings and give you very direct tips about what to get wherever you are.  
It includes restaurants across the entire Capital Region – from Barrhaven to Wakefield, from Orleans to Kanata.
So, what is a CheapEats?
Very simple definition, in fact.  A place where you can get either:
- Breakfast for under $5 
- Brunch for under $10
- Lunch for under $10 
- Dinner for under $15;
INCLUDING taxes and a drink!!! (Mind you, a soft one)
And you can even get Jack Layton's own recommendation in it!!
.
Ya ya ya.I know
this
 happened three weeks ago, but I still had to add a few thoughts about this year's ribfest.I moved to Ottawa 11 years ago, and every year at the end of June, I am looking forward not only to the end of the parliamantary session, but more importantly to the International Chicken and Rib cook-off, held on Sparks Street.
Folks often don't realize that east of Bank St., there are more bbq shacks. And usually not as busy. Carmello's patio is big, and they invited you kindly to enjoy your ribs as long as your purchase a beverage.  It is the case for most patio on Sparks Street, kudos to Carmello's and Brixton's especially, but for some reason the people at the Centretown Tavern (the trendy-ish waterhole attached to the not-so trendy Yesterday's) are stubbornly refusing to join the fiesta and are turning ribfesters away.  We were six enjoying a beer there, and we left when we realized we couldn't eat the tasty bbq treats there. Not very smart, and not good for business.  Shame.On a funny note, Jazz'oo Cafe's daily special on the Friday was ribs.  Interesting timing.
———–
Kilgore: Smell that? You smell that?
Lance: What?
Kilgore: BBQ, son. Nothing in the world smells like that.
[kneels]
Kilgore: I love the smell of BBQ in the morning. You know, one time we had a pig roasting, for 12 hours. When it was all over, I walked up. We didn't find one of 'em, not one stinkin' bone.
The smell, you know that sweet smell, the whole pig. Smelled like… victory.

———–
This year, I had the opportunity to try – in chronological order :
Uncle Sam's, Silver Bullet, Camp 31, Gator BBQ, Crabby's.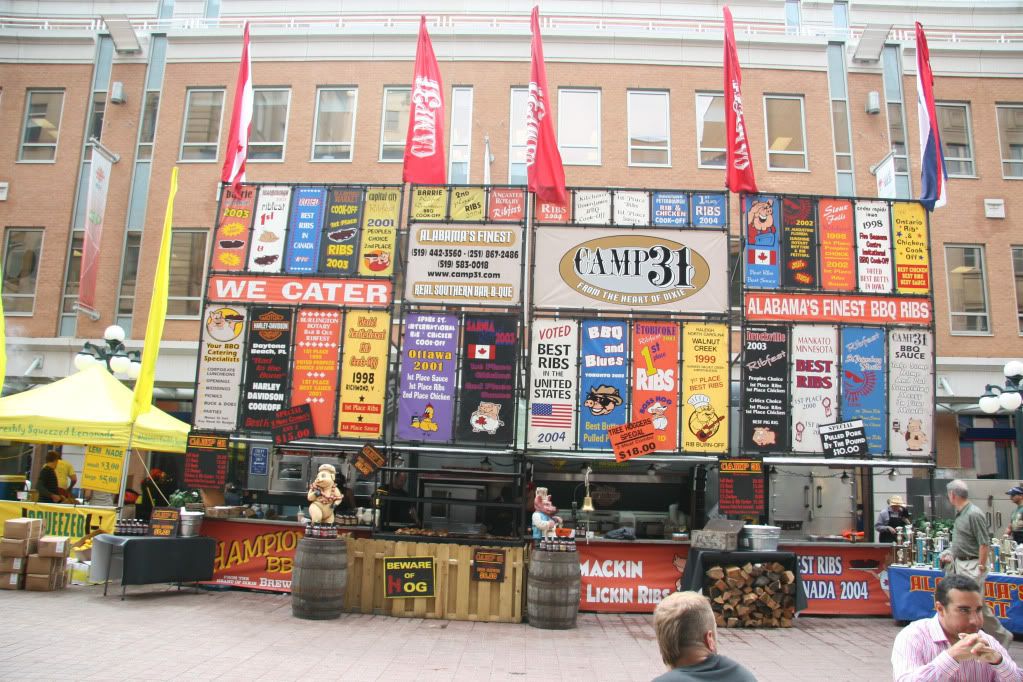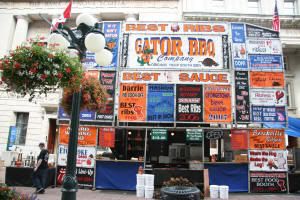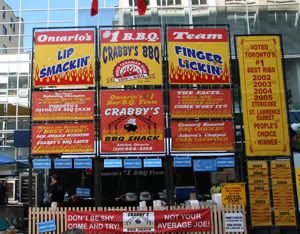 Now, I wouldn't want to upstage the stellar judges (btw, you must see the performance of Sandy Sharkey of BOB-FM), but here are my choices:
BEST RIBS:
Gator BBQ had baby back ribs, which were cooked to perfection, even though we went on Saturday morning as most of them bbq folks are still waking up.  A little citrus tangy taste to the sauce, I enjoyed them at Carmello's with a pint of lager. Great combination.
BEST CHICKEN:
I've got to go with Gator BBQ again.  The crew from Florida's chicken was tender, juicy, tasty, with none of the dryness that sometimes plague the birds at the BBQ shacks.
BEST SAUCE:
Silver Bullet, no questions asked.  Spicy, very nice heat, not too thick, it was certainly one of the highlight of this year's cook-off.  It was particulary great with the pulled pork, as the meat absorbed the flavor very well.  Not bad on the ribs as well.
BEST PULLED PORK:
Silver Bullet, I think mostly because of the sauce, but also the tenderness of the meat.  Unlike Camp 31′s pork, which was really oily and had no distinct flavor to it, the Bullet's hit the target with their slow cooked piggy meat.  No dryness to it at all, and very well pulled in small chunks as opposed to sloppy big dry pieces we could find at other locations.
BEST DEAL:
The familly deal at  Crabby's.   For 40$, you got half a chicken, full rack of ribs, a pound of pulled pork, two servings each of cole slaw and beans, and a bottle of sauce.  Sweeeeet.
.
Yes, finally!
It is here.
Now, of course, there is nothing much here.
But yet, it does exist.
Stay tuned.
.